FAO won't hire Samba dancer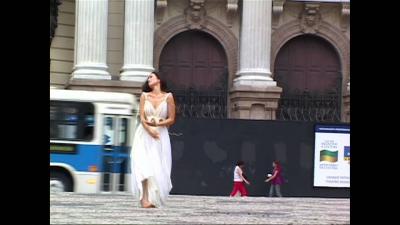 Viale in her You-tube video
ROME– FAO chief José Graziano da Silva dropped plans to hire consultant Telma Viale as HR chief after viewing an artistic  video in which she apparently strips to the buff, FAO sources say.
 Staff at the sprawling former Italian colonies ministry have been gripped by the video http://www.youtube.com/watch?v=GhWddg7n-e4for Ms Viale's Reconvexo cd album since the Brazilian da Silva hired temporarily the striking Salvadorean as one of a constellation of outside advisors brought in to revitalise the famine-fighting agency.
However after the Italian Insider disclosed the agronomist's plans to elevate the 51-year-old HR executive to the top Human Resources job at FAO the agency, considering the controversy surrounding her image, decided not to appoint her, the sources said.  
The FAO has long been a somewhat prim organisation in which international civil servants were expected to keep a low public profile while devoting themselves to their mission against hunger. Not a few veteran staffers were taken aback when they perused the video of the ILO executive dancing slinkily in a series of outfits including a long white dress which, in a final clip of the video, is seen slithering to the ground.
"She should have taken the clip off You tube," one stuffy senior FAO staffer opined. Friends of Ms Viale, however, were quick to point out her distinguished professional background, noting that she was chief of the human resources development department at the International Labour Organisation in Geneva and previously had undertaken field assignments for the UN Development Programme in Mozambique and Afghanistan in the 1990s. Her alternative career as a Bossa Nova singer only debuted in 2008.
"Telma Viale learned to love music in the heat of a colourful kitchen, cuddled daily after school by the 'cocineras' of her mother's guesthouse in downtown San Salvador," her website notes, "absorbing at a very young age the sounds of radio days, the beat of Latin rhythms and the romance of boleros."