IFAD link to confessed kidnapper of Emanuela Orlandi
ROME– A self-syled secret agent who claims he helped kidnap Vatican schoolgirl Emanuela Orlandi was convicted for killing in 1983 the son of a Uruguayan official at the UN food agency IFAD, police sources say.
 Marco Fassino Accetti, 58, has baffled investigators into the 1983, kidnapping by claiming he was part of an Italian secret service dirty tricks gang that kidnapped Emanuela, the 15-year-old daughter of a Vatican usher, on her way home from a music lesson,and Mirella Gregori, another teenager who disappeared the same year, purportedly to put pressure on the Holy See. Accetti's wild account includes some contradictions but has earned grudging credibility as he disclosed to the television programme Chi l'ha Visto the whereabouts of the flute that Orlandi had with her when she was abducted.
 Investigators had never made public that the flute was a Ramponi and Cazzani model she carried in a case lined in red velvet. Accetti produced a detailed map that allowed police to find the flute and its black case wrapped in newspapers from 1983. Accetti claims that both teenagers were persuaded to accept their abduction without the use of force and were eventually moved to Paris where he believes they are still alive. Other witnesses in the past claim that Emanuela was murdered by Enrico de Pedis, a charismatic mobster with links to secret services.
  Journalists from Chi l'ha visto, a tv programme that specialises in tracing missing persons, disclosed that Accetti six months after the disappearance of Emanuela was held for questioning by police in connection with the death of a 12-year-old boy, Josè G., the son of a Uruguayan official working for the International Fund for Agriculture and Development, who disappeared on the evening of Dec. 20, 1983 in the EUR district of Rome.
 The boy's body was found the next day at Castel Porziano near Ostia by a bus driver and Accetti was arrested on charges of running the boy over while driving a Ford van.
 Investigators at the time suspected the boy may have been kidnapped, according to a report in Il Fatto Quotidiano newspaper Thursday, but were unable to prove it was anything other than an accident and Accetti in the end was convicted solely for manslaughter. It was unclear why anyone should want to abduct the boy though offficials at the UN agencies in Rome often have been known to use jobs there to obtain quasi diplomatic cover for espionage activities. 
 Accetti claims he decided to disclose what he knows about Emanuela's kidnapping because of the new climate of openness at the Vatican with the election of Pope Francis.
 Accetti bears a close resemblance to the Italian comic Roberto Benigni and has appeared on RAI television employed as a double of the comedian, Il Fatto said. Forensic experts are carrying out tests on the flute to try and determine whether there are traces of saliva or fingerprints carrying Emanuela's DNA.
 jp    
The flute found on directions from Accetti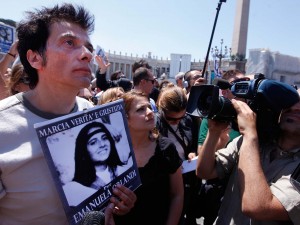 Emanuela's brother Pietro