Pope Francis: Continuing to break tradition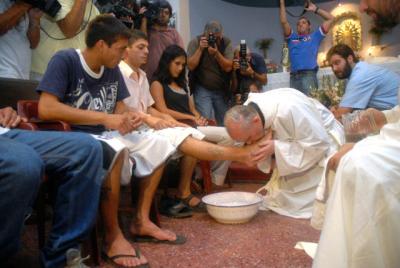 The then Cardinal Bergoglio washing the feet of patients at a drug centre in BA in 2008
ROME-- Pope Francis will celebrate Mass on Holy Thursday at the Casa del Marmo juvenile detention centre, the Vatican announced this morning.
The feast day celebrates the Last Supper of Jesus Christ with his apostles and Francis will spend the morning in St. Peter's Basilica, before moving to Casa del Marmo in the afternoon.
"In his ministry as archbishop of Buenos Aires, Cardinal Bergoglio used to celebrate this mass in a prison or hospital or home for the poor," said the Vatican. With the mass inside Casa del Marmo, "Pope Francis will continue the tradition, which should be characterized by a context of simplicity".
The feet washing ceremony, which Pope Francis will carry out at the detention centre, is a Christian Easter practice that dates back to the time of Christ.  Usually carried out within the Vatican, the Pope traditionally washes and kisses the feet of twelve people to imitate Christ's gesture to his apostles before he was crucified.
The Grand Iman of Al Azhar, Ahmed el Tayyeb, the advisor for the highest learning institution of the Sunni-Islam world has sent a message of congratulations to Pope Francis calling for "a world full of love and cooperation to ensure common values and to end the culture of hatred and inequality".
In his message, which marks a significant breakthrough in Catholic-Islamic relations, el Tayyeb sends congratulations to "the Catholic brothers from East and West" for their choice of Pope.  It brings a strong sense of optimism to Catholics and Muslims throughout the world after their relations became severely damaged during Benedict XVI's papacy.
El Tayyeb continues, "We are hoping that the new pontificate contributes to a good time for all people in a world that is always changing and in the need for stability and peace".   A source explained, "this is a first step and if we receive a positive response from Islam, discussions can begin".