Abuse Victims Sceptical of U.S. "candidates" for pope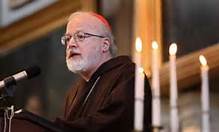 Healer: Cardinal O'Malley, archbishop of Boston
 ROME -- None of the American cardinals eligible for election as pope have impressed the Survivors Network of those Abused by Priests,  SNAP, its leaders said today.
  Italian and American media recently have identified Cardinal Timothy Dolan of New York and Sean O'Malley of Boston as potential candidates for election to replace outgoing Benedict XVI, saying that O'Malley has impressed by his handling the paedophile scandal that ripped through his archdiocese. However SNAP's national director, David Clohessy, said neither prelate inspired particular confidence among abuse victims. "They are charming, engaging but have not always adhered enthusiastically to the US bishops' 2002 guidelines on child abuse," Mr Clohessy told a news conference in Rome.
 SNAP called the news conference to coincide with its presentation to the United Nations of an appeal for censure of the Vatican for abusing UN guidelines for protection of children. Clohessy says there has been a sea change in attitudes by governments to child abuse by priests since Benedict was elected a year ago but charges that the Holy See still is dragging its feet over the issue with, for instance, no single Roman Catholic bishop yet dismissed for covering up abuse by priests in his diocese.
 Although the Vatican adhered to the UN convention for the protection of children it had failed to meet a requirement to send a report every three years about abuse in its territory, said Mr Clohessy. "The Vatican has not filed a report for at least 10 years," he added.
 Cardinal Dolan had been slow to meet one of the bishops' 2002 requirements requiring prelates to post on their diocesan websites the names of predator priests, he said.
 SNAP welcomed the resignation of Scots Cardinal O'Brien on the eve of the conclave but said it is too early to say whether other prelates linked to abuse controversy may follow suit.
 jp