Number of deaths rises as more people choose to explore the Lombard mountains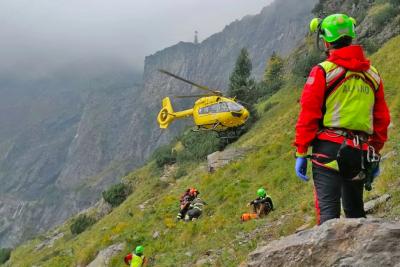 Air rescue operation in the Lombard region.
 BERGAMO - More deaths have been added to the death toll of the mountains in the Lombard region. Over the course of one week, nine people aged between 26 and 89, have lost their lives in tragic incidents on the mountains of the region. The latest casualty, a 26 year old man, died on Monte Legnone as a massive boulder dislodged from itself and caused him to plummet for hundreds of meters, ultimately killing him. His two friends, who were there with him, have immediately called for help, a helicopter with a medic team on board was dispatched from Como. At their arrival, despite their best efforts, the doctors pronounced the young man dead on scene.
 Before this tragedy, a 55 year old man lost his life in the vicinity of Sondrio. Another fatality occurred in the same region, an 89 year old man who was found lifeless in the Paspardo area of Valle Camonica. The elderly man had gone for a walk but failed to return home. His lifeless body was found at the bottom of a 25 meter precipice, therefore it is assumed that he has fallen from the rocky ledge.
 In Sonico, Brescia, a landslide claimed the life of a 76 year old, while another person was left injured. Simultaneously, on the same day on the east side of Cima Moren, in Borno, another mountain enthusiast, aged 79, lost his life after a 10 meter fall. Soon after, Francesca Tibaldi, a 43 year old woman, died by slipping into a canal while descending from the region of the Laghi Gemelli alongside her friends. Additionally, Oreste Pezzini, a 76 year old retiree, suffered a fatal fall in a forest in Rasura, Val Gerola, in the Sondrio Province, while searching for mushroom. Continuing this trend, on Aug. 12, 85 year old Enrico Vaninetti, lost his life in a similar manner, slipping in the woods and falling nearly seventy meters along a mountain trail as he was searching for mushrooms.
 On Aug. 14, a 26 year old doctor lost his life after falling for 80 M while trying to find his way back to the path alongside his girlfriend after getting lost. On Aug. 15, another mushroom seeker, a 55 year old resident of Como, was found dead in the Val Masino area of Sondrio. 
 nk
 © COPYRIGHT ITALIAN INSIDER
UNAUTHORISED REPRODUCTION FORBIDDEN