Italy wins gold in relay race at world swimming championships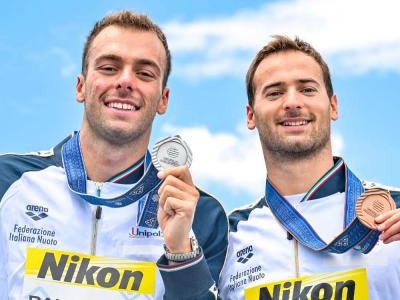 Gregorio Paltrinieri and Domenico Acerenza. Photo: Giorgio Scala/Deepbluemedia/Insidefoto
 FUKUOKA, JAPAN - - Italy has won gold in the 4 x 1.5 KM open water relay at the World Swimming Championships in Fukuoka.
 Gregorio Paltrinieri, after the silver medal in the 5 KM, put in another great performance, who finished solo in 1h10'31"2 after a super effort by Barbara Pozzobon, Ginevra Tadeucci and Domenico Acerenza.
 Second place, and silver medal, went to Hungary, followed by Australia with bronze. 
 "We are delighted, this is the first time we have won gold at the World Championships. We have won everything and everyone over the years, but this medal was missing and we really wanted it," remarked Paltrinieri on the Federnuoto website. 
 "We were all good," he continued, "The women were holding their positions and following the right routes and trails. Then Acerenza gave me the right change. I had asked Mimmo to let me start first, in the lead, not behind either Hungary or Germany. He succeeded and I held my own. 
 The World Championship had not started in the right way, without medals and an Olympic pass, but the conditions have got better over time. We know how strong we are. We must always try to express it, despite the difficulties, even if objectively the cross-country project is going very well. This medal is proof of that. We have dreamed over and over again of winning gold at the World Championships as a team and we have finally succeeded," he concluded.
 es
 © COPYRIGHT ITALIAN INSIDER
UNAUTHORISED REPRODUCTION FORBIDDEN