Pope resumes audiences after feverish Friday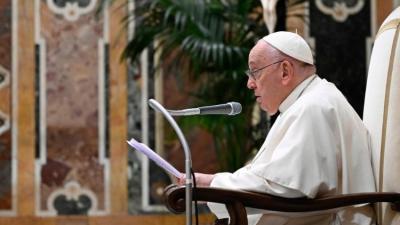 VATICAN CITY -- Pope Francis, looking serene and refreshed, resumed his regular schedule of audiences Saturday, meeting intellectuals from Georgetown University attending a conference organised by the Jesuit magazine Civiltà Cattolica, the Vatican said.
 "Continue to dream, to be restless, to conjure up words and visions that can help us interpret the mystery of human life and guide our societies towards beauty and universal fraternity," the pontiff told the academics. "Keep helping us to open wide our imagination so that it can transcend our narrow perspectives and be open to the holy mystery of God."
 Francis abruptly cancelled all the audiences he was due to hold in his tiny city state Friday due to "a light state of fever," the Vatican said.
 On Thursday the 86-year-old pontiff appeared tired at the end of a series of morning audiences and while he walked into the last meeting in the modern Paul VI hall in the Vatican using only a walking stick Francis left in a wheelchair without saying goodbye to participants. The pope then attended a further tiring engagement Thursday afternoon.
 For the moment all the other papal engagements are confirmed including his scheduled celebration of a Mass on Sunday morning to mark the solemn feast of Pentecost followed by his regular weekly Angelus address.
 jp
 © COPYRIGHT ITALIAN INSIDER
UNAUTHORISED REPRODUCTION FORBIDDEN