Vivacious photographer Steve McCurry exhibits in Genoa
Sharbat Gula 'Afghan Girl', 1985 by Steve McCurry
ROME –  A 200+ piece exhibit demonstrates National Geographic star-photographer Steve McCurry as a collector of undiscovered beauty, after years of following his nomadic spirit and curiousity.
Born in Philadelphia in 1950, McCurry began his work as a photographer at a local newspaper. After three years he went took an excursion to India. With pictures from the trip, he composed his first real portfolio.  McCurry quickly made traveling a dimension of life: "For the mere travel and to learn about different cultures gives me joy and an inexhaustible charge. "
The photographer's career peaked after his work on Afghanistan was published.  He began working with some of the most prestigious magazines: Time, Life, Newsweek, Geo and National Geographic. Going from Beirut to Cambodia, Kuwait, the former Yugoslavia, Afghanistan, he always pushed the front line, sometimes risking his life to witness the effects and consequences of conflicts around the world.
A repeated winner of World Press Photo Award, his work has been described as serving as a point of reference for a wide audience, especially for young people.  
The exhibition runs in Genoa from Oct. 18 to Feb. 24. Curated by Biba Gammill and Peter Banks, this exhibition in Genoa offers a high-impact of scenographic equipment designed for one thousand square meters of the portico of Palazzo Ducale.
Among the mighty collection is the legendary portrait of Sharbat Gula tagged "Afghan girl" that appeared on a National Geographic Magazine cover in 1985. The portrait was once claimed to resemble Leonardo Da Vinci's "Mona Lisa"earning it the nickname "The Afhgan Mona Lisa".
Of the latest hundred images of McCurry, many have never before been shown to the public. With the last rolls of Kodak film, these shots were taken on trips to Cuba, Thailand, Myanmar, in spectacular series dedicated to Buddhism, recent and numerous stays in Venice, Sicily, Rome and L'Aquila.  Finally, images from taken this year in Tanzania under the project Tierra!, and a collaboration with Lavazza.
Numerous photographs will be displayed in the large format. It crosses the best-known production of this great photographer. 
 "Each portrait includes a complex universe of experiences, stories, emotions, pain, fears and hopes. I learned to be patient. If you wait long enough, people forget the camera and their soul begins to soar towards you, "says McCurry.
"Each visitor can find his way in the game of cross-references that ties together men and women from many different places on Earth."
-ss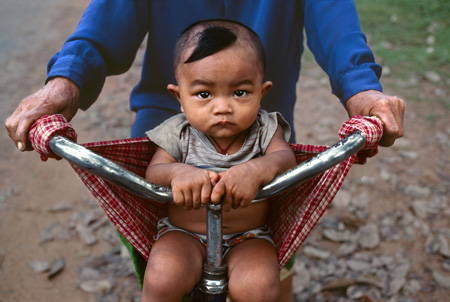 'Cambodia' by Steve McCurry
Photographer Steve McCurry