Vatican Museums unveil two new rooms housing 'ancient spices and precious ceramics'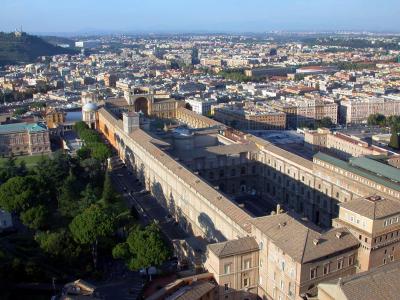 The Vatican Museums from above
 VATICAN CITY – On May 25, two new rooms in the Vatican Museums will be unveiled to the public for the first time: the Spezieria di Santa Cecilia in Trastevere and the Sala Delle Ceramiche, according to a press release from the Museum.
 The Spezieria (Spice Shop) di Santa Cecilia in Trastevere, represents a unique example of its kind for the integrity of the apothecary collection in use from the beginning of the 17th century until 1936, when it was moved to the Vatican at the request of Pope Pius XI. The sudden change of location in fact stopped the activity of the Trastevere pharmacy for some time and prevented its dispersion, preserving objects and ingredients formerly used for making of medicines.
 The surviving apothecary set consists of containers for water and syrups, respectively large and small jars as mentioned in the manuscript diary which narrates the transfer of the pharmacy from the monastery to the Vatican Library in 1936. The jars are made with a enamel cover and decorated in blue cobalt on a white background or, in some examples, on ash-blue enamel.
 The surface of each container is decorated with the recurring motif of the vine leaf, while below the spout a scroll containing the name of the medicine is painted. In some vases below the cartouche is an emblem St Cecilia or figurative elements such as large masks, faces, angels, vines or flowers.
 A door inside the former Spezieria leads to the second room, the Room of the Ceramics, which is also on display for the first time, and on a permanent basis, alongside the Vatican collection of medieval and modern ceramics.
 Among the most significant works on display are the 34 precious Renaissance plates from the Carpegna Collection, the medieval tableware in fine ceramics, fine pottery, the extremely rare examples of majolica floor bricks and the series of Della Robbia floors that were part of the Vatican Loggias known as the Loggias of "Raphael."
 Luca Pesante, part of the Decorative Arts Department of the Vatican Museums, said: "The collection of ceramics in the Vatican Museums constitutes in its complexity and heterogeneity one of the most significant collections exhibited in a museum on our Peninsula. The catalogue published for this occasion represents a thousand years of history of Italian ceramics: from the first glazed pottery produced in Rome in the 9th century to the monumental works offered as gifts to the popes in the aftermath of the Unification of Italy."
 The two new rooms are located at the exit of the Sistine Chapel, along the path of the decorative arts collection and are visible through a precious carved door.
 eb
 © COPYRIGHT ITALIAN INSIDER
UNAUTHORISED REPRODUCTION FORBIDDEN