Candidates challenging re-election of Chinese FAO chief mysteriously withdraw from race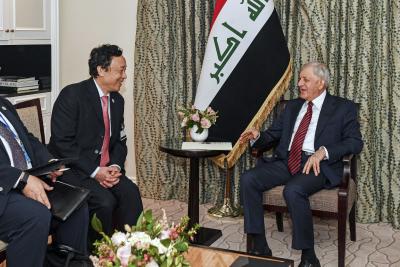 FAO Director-General QU Dongyu meeting Abdul Latif Rashid, President of Iraq, March 23 in New York on sidelines of the UN 2023 Water Conference. Photo credit: FAO
 ROME – The abrupt withdrawal of two candidates from Iraq and Tajikistan from their official bid to challenge the re-election of the Chinese director general of the FAO, Qu Dongyu, raises further questions about Beijing's tactics to retain control of UN specialised agencies, diplomatic sources say.
 The Iraqi candidate, Khalaf Ahmed, withdrew from the race on March 6, followed by the withdrawal of Tajikistan's Dilshod Sharifi on April 3.  The deadline for nomination submissions passed Feb. 28, removing the possibility of alternate candidates.
 It was not immediately clear why Ahmed, a former chief of staff to the Iraqi prime minister, and Sharifi, head of Tajikistan's international cooperation department at its development ministry, threw in the towel when their campaigns had barely begun. However in the past it has been common for member states to run candidates against a favourite for the director general's job and then withdraw as part of a venal deal conferring emoluments or privileges on the country that withdraws its candidate.
 When Qu Dongyu ran for the post first five years ago Cameroon fielded a candidate who it claimed had the support of most African Union states and then withdrew him after China reputedly agreed to pay off the African nation's foreign debt, much of which was to Beijing for infrastructure investments.
 In another precedent Indonesia fielded a candidate against Brazil but the candidate, Indonesia's ambassador to the FAO, received a consolation prize of becoming head of the FAO's fisheries division after he conveniently withdrew from the race against Brazilian economist José Graziano di Silva.
 Daniel Runde, a commentator for the website 1945 was on the right track when he suggests that a key reason Qu now is running unopposed for his second term is because the United States needed Qu to endorse the appointment of Cindy McCain at the WFP under the UN spoils system.
 "Given the economic influence of China as the second-largest economy in the world," Runde speculates, "perhaps there was a calculated decision by the administration that allowing China to hold one agency in exchange for Ambassador Cindy McCain's easy accession to the WFP was an acceptable, although distasteful, deal."
 Such a deal was distasteful because Qu has been criticised for failing to condemn the Russian invasion of Ukraine, echoing Russian propaganda in official FAO statements on the conflict and currying favour with Moscow by inaugurating a Russia Room on the top floor of the FAO headuarters building in Rome.
 Runde's insight is likely only part of the story, however. The United States may have indicated by stoney silence to Iraq and Tajikistan that they could expect no support from the largest donor to the FAO if they persisted with their candidatures against Qu. 
 However it is more likely that countries as venal as Iraq and Tajiqistan extracted a quid pro quo from China in return for removing their turbans from the ring. What the benefit to both countries could be may only become clear in future appointments at FAO or in the countries' financial dealings with China and or the FAO.
 China borders with Tajikistan and Beijing is Tajikistan's largest trading partner and source of investment.
  Iraq is a major destination for Chinese investment in the Middle East and China is the biggest buyer of Iraqi oil. 
  Iraq and Tajiqistan may indeed originally have been persuaded to field their nebulous candidates by China, FAO watcher say.
 In addition to giving a temporary semblance of a democratic process, they could have been useful as spoilers should Qu have encountered any serious opposition, for instance from France, which fielded a strong candidate against Qu five years ago only to see her lose due to the Trump administration foolishly split the Western vote by supporting a Georgian outsider candidate, evidently to spite Paris. Since his election only France has levelled any trenchant criticism of Communist party member Qu while other OECD countries' concerns have been deeply muted.
 jf
 © COPYRIGHT ITALIAN INSIDER
UNAUTHORISED REPRODUCTION FORBIDDEN