Trudeau and Meloni butt heads over LGBT+ rights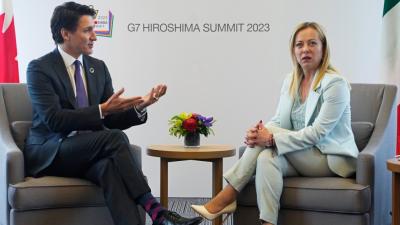 ROME – LGBT+ rights have been the subject of friction between Canada and Italy, as a statement published by the Canadian Presidency stated that it was "concerned by some" of the positions "that Italy is taking on LGBT rights." The Italian Prime Minister Georgia Meloni, the Canadian note reads, "responded that her government is following the decisions of the courts and is not deviating from previous administrations."
In the summit that was supposed to focus, among other things, on the war in Ukraine, the "exchange of views" during the morning bilateral between the Canadian President Justin Trudeau and Meloni partially took centre stage.
But the discourse soon shifted to the crisis on Europe's borders and the efforts to be made to reach a truce. After the visit to the Hiroshima Peace Memorial, the work of the world leaders began.
Ukraine monopolised the debate, with EU leaders also participating in a coordination meeting on the sidelines of the summit. Present were Meloni, French President Emmanuel Macron, German Chancellor Olaf Scholz, European Council President Charles Michel and EU Commission President Ursula von der Leyen. Industrial issues, the defence of common EU interests and energy transition were also at the centre of the meeting, the same sources report.
 eb
 © COPYRIGHT ITALIAN INSIDER
UNAUTHORISED REPRODUCTION FORBIDDEN