Juventus striker Vlahovic receives caution over 'shushing' racists chants by Atalanta fans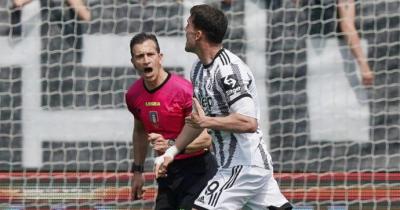 ROME - During the Serie A match at the Gewiss Stadium in Bergamo between Atalanta and Juventus, Serbian striker Dusan Vlahovic responded to racist chants by Atalanta fans by shushing them with his finger. This came after Vlahovic scored a late goal securing Juventus' 2-0 victory but was then cautioned by the referee for his "provocative response" to the chants, as reported by Il Fatto Quotidiano.
 The chants consisted of mainly discriminatory comments against gypsy groups, and associating Vlahovic with these groups who are often generalised in racist clichés as people who live by their wits, steal, etc.
 After his goal, Vlahovic shushing the opposing fans and bringing his hand to his ear. The referee deemed the centre forward's attitude provocative and drew a yellow card.
 Criticism of the referee's decision was unleashed on social media: this echoes scenes last month when Inter Milan striker Romelu Lukaku was sent off following his shushing celebration after being on the end of racist chants from Juventus fans.
 The FIGC on that occasion, revoked the Belgian's disqualification in order to give a signal against racism. However, the episode confirms an interpretation problem that referees and the FIGC will have to solve as soon as possible.
 Gianpiero Gasperini, the Atalanta Manager, however, stated that he did not believe the chants were racist: "I have already said that we have players like Pasalic and Djimsiti on the pitch. Not everything is racism, sometimes it's also individual things."
 This is how the former Inter and Genoa coach spoke about the chants against Vlahovic: "It's more rudeness than racism. If it were racism, Pasalic would also be insulted because it goes against the whole ethnic group."
 Massimiliano Allegri, the Juventus Manager, stressed the importance of fighting against racism in the stadiums, and is not of the same opinion: "Those in charge have to take care of these things. These incidents must be fought."
 In response to this racism incident, a sports judge, Gerardo Mastrandrea, ordered "the obligation to play a match with the sector called 'Curva Nord Pisani' without spectators." A fine of 10,000 euros was also imposed on Atalanta "for having supporters throw objects of various kinds, including blunt objects, into the enclosure and onto the field of play and, at the 21st minute of the second half, for having intoned an offensive chorus towards the referee."
 © COPYRIGHT ITALIAN INSIDER
UNAUTHORISED REPRODUCTION FORBIDDEN