Pope Francis warns freedom is under threat in Europe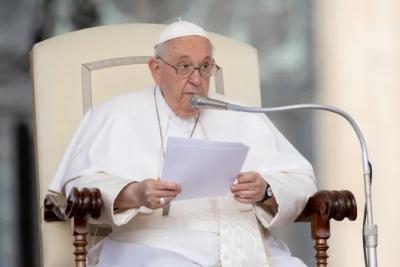 VATICAN CITY – In his first weekly general audience after returning from his pastoral visit to Hungary, Pope Francis warned that freedom is under threat in Europe as he underlines the importance of "preserving roots" and "building bridges."
 "Even today, freedom in under threat," the pope said on Wednesday. 
 "When the only thing that counts is thinking about oneself and doing what one likes, our roots suffocate. This is a problem throughout Europe, where dedicating oneself to others, the feeling of community, the beauty of dreaming together and creating large families are all in crisis," the pope continued. 
 Reflecting on his three-day visit to Hungary, the pope spoke about Hungary's Christian roots and how they were tested in the 20th century. 
 "During the atheist persecution of the 20th century, Christians were struck down violently, with bishops, priests, religious and lay people killed or deprived of their freedom."
 "But while attempts were made to cut down the tree of faith, the roots remained intact," the pope continued. 
 In this context, the pope called on the faithful gathered in Saint Peter's Square to "Reflect on the importance of preserving roots, because only by going deep will the branches grow upwards and bear fruit."
 The pope also acknowledged Budapest as the "city of bridges" and reflected on the importance of building bridges of peace between different peoples.
 Building bridges is "The vocation of Europe, which is called to include differences and to welcome those who knock on its doors. In this sense, the humanitarian bridge created for so many refugees from Ukraine is beautiful."
 The pope also commented on Hungary's work on "Building bridges for tomorrow." 
 "There is a great concern for ecological care and a sustainable future, and work is being done to build bridges between the generations, between the old and the young, a challenge than cannot be renounced by anyone today."
 The pope concluded his address by commenting on "How very devoted the Hungarians are to the Mother of God."
 "Consecrated to her by the first king, Saint Stephen, they used to address her without pronouncing her name, out of respect, calling her only by the Queen's titles. To the Queen of Hungary, therefore, we entrust that dear country; to the Queen of Peace, we entrust the building of bridges in the world; to the Queen of Heaven, whom we acclaim at this Easter time, we entrust our hearts that they may be rooted in the love of God." 
cw
 © COPYRIGHT ITALIAN INSIDER
UNAUTHORISED REPRODUCTION FORBIDDEN