Pope Francis calls for a unified and welcoming Europe in speech in Budapest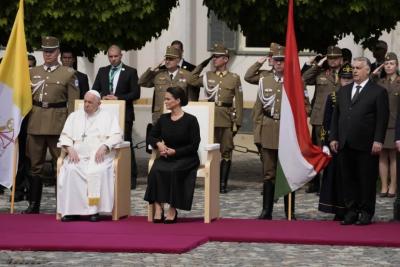 VATICAN CITY– Addressing the Hungarian President, the Prime Minister and the many citizens who had gathered to listen, Pope Francis warned against rising European nationalism and called for a unified and welcoming Europe, in a speech in Budapest on the first day of his pastoral visit to Hungary. 
 After thanking President Katalin Novák and Prime Minister Viktor Orbán for their welcome, the pope started his address by remembering the troubled history of the country commenting that Hungary is "a country that acknowledges the value of freedom and, having paid so great a toll to dictatorships, is conscious of its mission to preserve the treasure of democracy and the dream of peace."
 However, the pope lamented that in modern times, "We seem to be witnessing the sorry sunset of that choral dream of peace, as the soloists of war now take over."
 "More and more, enthusiasm for building a peaceful and stable community of nations seems to be cooling, as zones of influence are marked out, differences accentuated, nationalism is on the rise and ever harsher judgments and language are used in confronting others."
 In this context, the pope called for a renewed sense of European unity and "to recover the European spirit" of the past. 
 The pope noted that Budapest is known as "the city of bridges" and used the example of bridges serving as links between "different realities" to illustrate the "unity in which we need: the harmony of a whole whose parts are not blandly homogenized, but fully integrated."
 He also urged the need for a "welcoming Europe" for migrants as a matter of Christian charity. 
 "When we think of Christ present in so many of our brothers and sisters who flee in desperation from conflicts, poverty and climate change, we feel bound to confront the problem without excuses and delay. It needs to be confronted together, as a community, not least because, in the present situation, its effects will be felt, sooner or later, by all of us."
 "It is urgent then, as Europe, to work for secure and legal corridors and established processes for meeting an epochal challenge that is ineluctable and needs to be acknowledged, in order to prepare a future that, unless it is shared, will not exist. This challenge especially calls for a response on the part of those who are followers of Jesus and wish to imitate the example of the witnesses of the Gospel."
 The pope concluded his speech with the assurance of his prayers to Hungarians. 
cw
 © COPYRIGHT ITALIAN INSIDER
UNAUTHORISED REPRODUCTION FORBIDDEN