PAKISTAN FLOODS "SWEEP AWAY" IFAD PROJECTS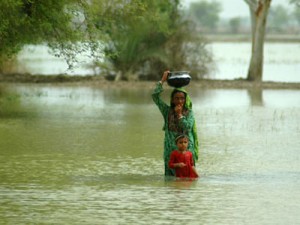 ROME — Severe flooding caused by heavy monsoon rains has affected an estimated 15.4 million people (including at least 7.5 million children) across Pakistan. The floods have damaged standing crops as well as stored grain and seeds for planting, and destroyed or damaged an estimated 900,000 homes.
A number of programmes and projects funded by the International Fund for Agricultural Development (IFAD) have been severely affected by the recent floods in Pakistan.
In the districts of Neelam and Muzaffarabad – where IFAD's Community Development Project is located – community infrastructures built by the project have been swept away by the flash floods.
"The floods have caused widespread damage to property, agriculture crops and livestock in the Mianwali district where IFAD implements microfinance activities through the Programme for Increasing Sustainable Microfinance," says Ya Tian, IFAD Country Programme Manager for Pakistan.
The floods have also caused extensive injuries among the human population and damage to crops, stored grain, seeds and livestock in the districts of Charsada, Jaffarabad, Rahim Yar Khan and Nawabshah, covered by the IFAD-supported Crop Maximization Support Project.
Districts within the target area of the IFAD-supported Crop Maximization Support Project have also reported extensive damage. And the districts of Muzafargarh and Rajanpur, where IFAD is proposing its next intervention, the South Punjab Poverty Alleviation Project, are among those worst affected by the floods.
Since 1978 IFAD has supported 23 programmes and projects in Pakistan with investments totalling US$ 440.9 million. The total cost of the organization's programme in Pakistan is US$ 2.10 billion.
IFAD-funded programmes and projects work to improve the livelihoods and productivity of poor rural people.
Operations reach the most disadvantaged communities, particularly communities in remote and marginalized areas across the country, where infrastructure and services are limited, access to inputs and markets is uncertain and institutional capabilities are often inadequate.
IFAD also works in partnership with the Pakistan Poverty Alleviation Fund (PPAF) to implement microfinance projects and to support communities that were struck by a devastating earthquake in 2005.