American tourist falls from roof of Rome hotel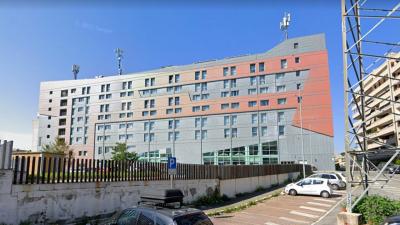 The hotel at Via Claudio Truffi
 ROME –  Javier Francisco Rullan Rubert, a Florida tourist visiting Rome, fell 30 meters from the top floor of a Rome hotel on Monday, officials say. 
 Rubert, 31, had been staying at the IH Roma Z3 Hotel on via Claudio Truffi for a few days. Hotel employees found him Monday afternoon, lying on the ground in a pool of blood following his fall from the roof. 118 health workers arrived on site only to find that the injuries were fatal. 
 Police officers and forensic teams have begun an investigation to reconstruct his last days and contacts he made before the fall. The investigators have confirmed that he was alone when he climbed to the roof. 
 They have seized some of Rubert's personal items, including his cell phone, which will be analyzed in the next few days. 
 The man did not leave any note for family or friends, so officials are trying to make contact with Rubert's relatives to understand what conditions he was in prior to the fall. Investigators are leaning towards a suicide but are not ruling out other hypotheses.
jd
 © COPYRIGHT ITALIAN INSIDER
UNAUTHORISED REPRODUCTION FORBIDDEN