Over 3,000 migrants arrive from Tunisia in a day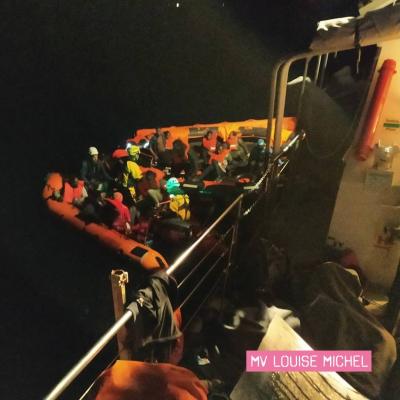 The Louise Michel rescue vessel after its rescue of 180 migrants Saturday night. Photo: Louise Michel
 LAMPEDUSA, SICILY — A record number of migrants arrived on the small Sicilian island of Lampedusa on Friday and Saturday, Italian officials said. 
 The migrants arrived in dozens of small boats from the port of Sfax, a city on the east coast of Tunisia. According to the Italian Interior Ministry, many of the migrants come from sub-Saharan Africa. 
 The sudden influx has flooded the already-overcrowded migrant hotspot of Lampedusa as 2,494 arrived in just 24 hours as of Sunday. The island's main migrant center, Imbriacola, has a capacity of just 400 seats. 
 There have been at least 20 migrant deaths following two shipwrecks in Maltese waters. Following the wrecks, 190 migrants were rescued by a Doctors Without Borders ship and 180 by the Louise Michel, a ship financed by artist Banksy.
The Louise Michel, however, was seized by the Italian Coast Guard after disobeying its orders. The boat assisted additional migrants in distress at sea after being ordered to head straight to Sicily. 
 "European authorities are fully aware of people in distress in their SAR [Search and Rescue] zone. Still, they block Louise Michel from leaving port and rendering assistance. Several lives were lost in 2 shipwrecks yesterday. These deaths are not an accident nor a tragedy. They are wanted," the NGO tweeted on Sunday monring. 
 Search and rescue operations continue to be conducted by the Coast Guard in the Italian SAR Region. Alarm Phone, another NGO committed to assisting migrant rescue, said that "major rescue efforts are needed" from the Italian government.  
Lampedusa has seen an immense influx of migrant arrivals due to its location in the Mediterranean. Earlier in March, the island saw over 800 migrants and refugees coming from various Middle Eastern and African countries. 
jd
 © COPYRIGHT ITALIAN INSIDER
UNAUTHORISED REPRODUCTION FORBIDDEN