Bocconi professor demands Insider pay 130,000 euros civil damages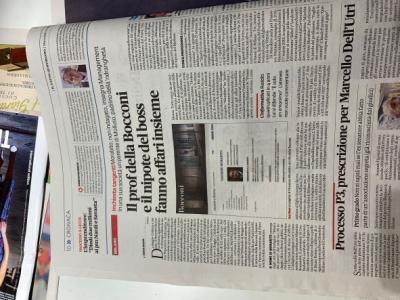 The original Fatto Quotidiano article about Vincenzo Morabito
 ROME – A professor at the Bocconi University has demanded Italian Insider's chief editor pay him as much as 130,000 euros for civil damages he claims he is owed for an article about his alleged links to crime gangs in Calabria, his lawyer told the Rome Tribunal this week.
 Vincenzo Morabito brought the case against Insider editor John Phillips for a 2019 article in the Insider which picked up a report in the Fatto Quotidiano about his alleged links to the 'Ndranghetà in Lombardy. Morabito strongly denies any links to the organised crime gang and also brought a defamation suit in Milan against Fatto Quotidiano for the original report, though oddly he is not seeking civil damages from Il Fatto.
 When Italian Insider published the pickup of the Fatto article, lawyers acting for Morabito demanded changes to the article which the Insider carried out.  Italian Insider strongly denies any intention to defame Morabito.
  Previously sentenced to a year and a half in prison by the Reggio Calabria Tribunal on account of extortion as a member of a crime gang (not Mafia) in his youth in 1993, Vincenzo Morabito, had his sentence wiped from his record as part of a plea bargain.  
 An associate professor in Bocconi's Management and Technology department, Morabito was reported by Il Fatto to have run a successful real estate and renovation business on the side of his academic commitments with the help of a building society whose lawyer is the nephew of a local Mafia's boss.
 Morabito appeared on the police's radar when his name arose in connection with Bruno Romeo, a  Calabrian whose uncle Giosofatto Molluso is the 'Ndrangheta's leader in the area. It transpired that Romeo was employed as the lawyer for Morabito's real estate projects in 2011, around the same time Morabito's income began to soar. Earning 99,000 euros a year at the time, Morabito's yearly earnings had risen to 421,000 four years later.
 Further scrutiny revealed that La Hermes, one of Morabito's company holdings, alone owns 25 properties in affluent areas of Milan, Rome, and Florence alike.
 Morabito has defended himself by claiming that the Bruno Romeo who he worked with was simply a namesake of the known mafia member. His justification, however, seemed to come unstuck when it was revealed that the Romeo he worked with had the same date of birth as the Romeo he was trying to distance himself from: May 22, 1975.
 The trial against Phillips was adjourned to September.
 © COPYRIGHT ITALIAN INSIDER
UNAUTHORISED REPRODUCTION FORBIDDEN