FAO women must "sleep way to top?"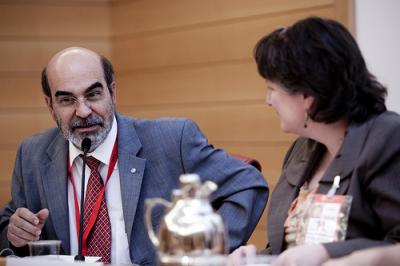 Dr Graziano at a seminar on women in agriculture. Photo credit: ©FAO/Alessandra Benedetti
ROME – FAO Director general Jose Graziano da Silva has fuelled outraged comments from female colleagues at the UN agency by lamenting a shortage of "really good candidates" among women for top jobs.
 "I have recommended that at least one woman continue to be included in the shortlists for all vacant posts," the Brazilian agronomist said. "I have to say that we are having difficulty to recruit really good candidates. I ask you for your help in identifying qualified women who can contribute to our work in FAO," Dr Graziano added.
 He was speaking last week during an informal seminar for Permanent Representatives to the FAO in Rome, which also was webcast to employees of the hunger-fighting agency worldwide.  
 Women working at the agency poured scorn on his remarks, however. "That is such a lie," one executive told Italian Insider. "There are many qualified women who are not given the chance due to old fashioned, machoist managers, African or regional racism or simply because being a woman you are expected to sleep with someone in order to get a promotion."
  Speaking on condition of anonymity, she added that "these women are always kept on the lowest hierarchical level due to their values and strong beliefs. Simply you are qualified and are constantly reminded that you are OVERQUALIFIED because you are from the wrong region or your experience is not FAO style."
 "Next thing you see is a lady coming out of nowhere with half of your qualification/education being recruited due to either her family links or other mysterious ways."
  In addition to his take on gender balance, Dr Graziano reiterated his determination to give fewer jobs to members of G-20 countries, apparently responding to criticism from OECD countries' ambassadors that their nationals, with the exception of Spain, are being sidelined under the reign of Dr Graziano, who took office in January at FAO. Dr Graziano said he was keen to find a better balance in national representation, especially at senior levels.
  He explained that figures from human resources showed G-20 countries had a total of 312 posts at P5 level and above at the end of August. Fifty percent of these positions were occupied by nationals of only three countries, and 75 percent of only five countries.
  "When you consider the distribution of posts inside one of the groups that includes our most important donors, and count just the number of incumbents without weighting them according to the level of the post, we still find a huge concentration of power," said the Director-General.
 Actions already approved by Members include transformation of the technical cooperation department, and ongoing improvements to administration in the corporate services department, an example being the repositioning of the conference, council and protocol affairs division under the Deputy Director-General (operations). "As was also noted by the June Council, the Secretariat will propose at its next session further transformational changes to improve the effectiveness and efficiency of the work of the Organization," said Dr. Graziano.
  Under the proposals to be made to FAO Council in November, the economic and social development department would take responsibility for the current food security and nutrition capacity of the nutrition and consumer protection division. At the same time, the visibility of standard setting and food safety components, including Codex Alimentarius, would be boosted by placing them in the office of the Assistant Director-General, agriculture and consumer protection department.
  Another proposed change would see the consolidation of all library services placed under the guidance of the office of knowledge exchange, research and extension.
  The Director-General told Members he was committed to attracting the most capable people to FAO to help achieve his vision for the organization. "I am bringing to FAO leading figures in economic and social development, food security and agriculture," he said. "Thinkers who understand the new dynamics of development and are capable and willing to transform ideas into action."
  Dr Graziano da Silva welcomed Jomo Sundaram, the new Assistant Director-General for economic and social development.
 The informal seminar also focused on food prices, follow-up to the Rio+20 summit, and the "strategic thinking process."
Consultant Telma Viale, whose hiring to FAO has been controversial