FAO sleuths spied on ADG's emails during nepotism probe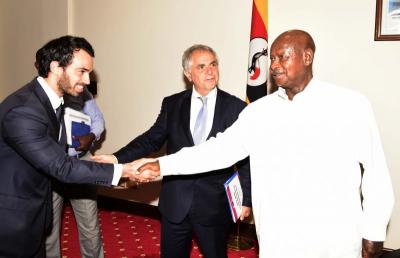 Roberto Ridolfi introduces his son Riccardo to Ugandan President Yoweri Musuveni during an FAO delegation visit in May 2018. Photo: Chimp Reports
 ROME – The Food and Agriculture Organization's internal oversight investigators carried out covert surveillance of former Assistant Director General Roberto Ridolfi's emails in the UN agency's computer system on orders of the director general, Qu Dongu, before the former top EU official was axed for alleged nepotism in connection with a development trade fair, UN sources say.
 Signor Ridolfi left his post as a director at the European Commission's development arm at the end of 2017, moving to a two year advisory role at the FAO. In 2019 he worked as an apri pista using his extensive contacts in Italian business to conjure up sponsorship for the EXCO cooperation fair in which a company managed by one of Ridolfi's sons, Sustainaway, claimed commissions for the business brought in by his father, as disclosed by the Italian Insider in 2019. His lawyers strongly denied any wrongdoing. 
 After Italian Insider's reports, Qu ordered FAO investigators to sift through Signor Ridolfi's emails for evidence of conflict of interest, the sources said. The FAO having diplomatic status as a UN agency means it is not subject to Italian privacy laws that preclude such snooping by Italian companies' on their staff's email contents.
 Qu climaxed the investigation by summoning Signor Ridolfi and demanding to know whether the Insider report was correct. Ridolfi strongly denied any inappropriate activities, whereon the Chinese DG showed him copies of his own emails that confirmed the conflict of interest evidently aimed at drumming up business for his scion.
 Ridolfi was given an honourable discharge in the time-honoured UN tradition but the affair deeply embarrassed the Italian foreign ministry, which had backed Ridolfi strongly for promotion to be a Deputy Director General with support from the radical Five Star Party.
 A former agriculture minister from the rival Democratic Party eventually was given the exalted post and spends much of his time conferring with lady friends over espressos in the FAO coffee shop, while Ridolfi parachuted into a job heading a federation of NGOs linked to the Farnesina.
 Signor Ridolfi  also came under scrutiny from EU anti-corruption sleuths from the OLAF unit who read the Insider report. Their investigation concluded last year, investigators said, though the European Commission has not made public the inquiry's conclusions.
 The EXCO cooperation fair experiment was ditched after three years and the Fiera di Roma head involved in its genesis also moved on to other pastures in the wake of his involvement in the Exco fiasco, the sources said.
 jf
 © COPYRIGHT ITALIAN INSIDER
UNAUTHORISED REPRODUCTION FORBIDDEN