Meloni appoints member of Fratelli d'Italia as quake reconstruction czar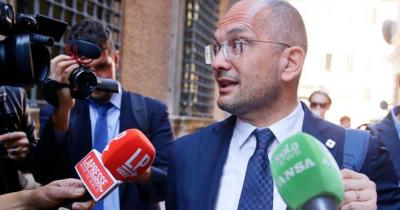 ROME -  After a little less than three years, allegedly using a spoils system, Giovanni Legnini was replaced by senator Guido Castelli, a member of the right-wing majority Fratelli d'Italia (FdI). The left-wing replied that the regions' request to keep Legnini was ignored and that placing Guido Castelli was just a political rather than technical decision overall. Despite the heated debate, both sides agree on the lack of funds destined for Abruzzo, Marche, Lazio, and Umbria (the four regions affected by earthquakes between 2016-2017).
 PD's Regional councilors of the Marche region underlined their surprise at the denied confirmation of Legnini, requested by the committees and majors of the seismic regions . They described Legnini as " a figure of great technical and institutional value, who was able to begin reconstruction in the center of Italy, so much so that the Government assigned him as commissaire to Ischia (who was hit by a devastating land slide during last November)."
Comment supported by the words of, Irene Manzi, member of PD, who said "we believe that this was a wrongful choice… the role of politics should be the one to uphold functioning processes (started since 2016) that give results,  and that should not be interrupted this way."
 Luca Pier Gentili Major of Sarnano (Marche)  instead expressed his congratulation for the new commissaire, together with his wishes to continue and enanche the anti-sysmic constructions, who still are, as he underlined,  at 3-4% of the total. 
 On the other hand Franco Cappone mayor of Treia (Marche) and representative of the "reconstruction coordination booth" replied that the government should rather focus on implementing foundings for public reconstruction, which should come to be 800 million euros, about 150 million less than what the Government reserved to seismic related reconstruction since 2010, which still according to civil defense department represents less than 1% of the overall needed funds.
 Cappone then concluded by referring to the new commissaire Castelli that "as competent and influential as he is, any new commissaire wouldn't have the time necessary to significantly influence the remaining projects…with the risk to stop nullify recent projects".
Tommaso Foti member of the right-wing majority on the other hand expressed his congratulation to the new commissaire and added "I am sure… Castelli will be able to give a significant acceleration to the almost 10 thousand unfinished construction sites, often blocked by wicked choices and by unacceptable bureaucracy."
 On this similar line, Marco Marsilio member of Fdl and president of the Abruzzo region said "we worked well and obtained good results with Legnini these past years. I'm sure we will do the same in continuity with Castelli."
 © COPYRIGHT ITALIAN INSIDER
UNAUTHORISED REPRODUCTION FORBIDDEN