U.S. military families lambast insurer for dropping Joy Center clinics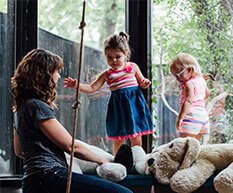 A mother with children at a Joy Care session
  NAPLES— American military families living near the Sixth Fleet base are up in arms after the U.S. government health insurer Tricare in a bizarre decision ruled that they may no longer be reimbursed for treatment for their children at the longstanding pediatric clinic Joy Center, U.S. military sources said Wednesday. Joy Center, a U.S-based clinic founded in Naples in 2010 that offers psychological, psychiatric, speech-language and occupational therapy for children and their families, was no longer a Tricare in-network provider as of the end of 2022, clinic founder and supervisor Amy Zier told the Italian Insider.
 Parents who want coverage for those services must switch to a different provider that now appears to be the only authorized similar clinic in Italy and Spain, based on a search of Tricare's online list of in-network overseas providers. That provider, Reach Aut, was founded by at least one former worker of Joy Center in 2020, Zier said. Reach Aut now has clinics in each of the same cities overseas in Italy and Spain as Joy Center.
 Natallia Stiefel, who is married to an active-duty Navy sailor, told the U.S. army newspaper Stars and Stripes that the couple's six-year-old son has been receiving speech therapy at Joy Center near NSA Naples for nearly a year. Ms Stiefel was hoping to get approval from Tricare for an out-of-network referral to Joy Center, but the request recently was denied without explanation.
 Their only other option is to change to another Tricare health care program. That would mean an out-of-pocket expense of about 20 percent of their son's therapy costs, Stiefel said.
 "His therapy isn't cheap, so it becomes a financial strain to continue what we've been doing," she said.
 A play area for children receiving therapy is included at a Joy Center clinic. Tricare's decision to end Joy Center's status as an in-network provider in Italy and Spain has upset as many as 100 parents, who now face difficult decisions regarding their children's care.
 Zier and parents whose children were treated at Joy Center say the decision puts patients' continuity of care at risk, potentially undermining progress and development at a time when children are most vulnerable.
 "I'm upset that Tricare would do this," Stars and Stripes quoted Katlyn Cunningham as saying. Her 5-year-old daughter has been receiving treatment at Joy Center near Naval Support Activity Naples since July. "That's our kids. They are messing with our kids. They are messing with all these children, all of the services they need to thrive and … be successful at life."
 Stiefel said she visited the other clinic and did not find it suitable.
 "I feel at this point, if I don't stay with Joy Center, it's pretty much there's not going to be any therapy (for my son)," she said.
 In a Nov. 23 post to its official Facebook page, the U.S. naval hospital in Rota, Spain, said it had been notified by Tricare that Joy Center no longer was an authorized provider and would not be for the "foreseeable future."
 As a result, military hospitals in Italy and Spain no longer will refer patients to Joy Center. Parents who want to keep their children enrolled in the center's programs likely will have to pay part of the cost of services previously covered in full by Tricare.
 Zier said she was notified of the termination in November by Tricare's Italian country representative, who said Joy Center had been dropped from the network based on an analysis of beneficiaries' needs and current network providers.
 Previously, Tricare had asked Joy Center to add services in Vicenza and Aviano, in 2015 and 2019 respectively, because there was no other provider, she said. But a January 2021 letter from Tricare's overseas management division said there wasn't a need for Joy Center in Aviano, she said. "It was confusing because we had so many people coming to us for help, either for their children or for themselves," she said.
  Cunningham told Stars and Stripes that despite the potential of having to pay for her daughter's care, the family will continue to go to Joy Center. The clinic not only helped her daughter but also offered Cunningham skills and insight to better understand her daughter's needs, she said. "She loves it there," Cunningham said. "We love going there, learning so much about her and what makes her tick and how to help her."
 Joy Center offers behavioral, mental health and other services for active-duty military and Defense Department civilian families.
 jp
 © COPYRIGHT ITALIAN INSIDER
UNAUTHORISED REPRODUCTION FORBIDDEN