Number of journalists being threatened in Lazio region grew in 2022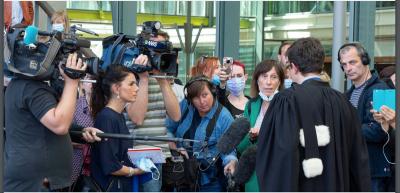 Journalists giving a speech.
 ROME -  In 2022 a 14 percent increase in threats towards journalists has been recorded by the press freedom NGO Ossigeno in the Lazio region alone, while in Rome some struggled to finish or perform their jobs properly at all due to intimidation.
 'Ossigeno' is an acronym for 'Osservatorio Su Informazioni Giornalistiche E Notizie Oscurate' (Observatory on journalistic information and blacked out news) and the name, that one could almost see as a pun, stands for the vital need that free and democratic societies have for the freedom of expression and of information, just like the human body has the vital need for oxygen – hence the name, since Ossigeno is Italian for Oxygen. 
 The NGO has a live ticker on its website showing the number of journalists that have been threatened or SLAPPed (Strategic Lawsuit against Public Participation) in Italy since their opening in 2006.
 That lawsuit is a type of legal action that is not pursued to gain any benefit or succeed, but to seed fear and ensure silence. Such actions are mostly performed by important entities in order to stop individuals or organizations from expressing themselves regarding issues that involve them or public matters that are beneficial to them. Freelance Journalism, activism, access to information, rights and democracy are all at risk, as well as other types of public engagement.
 nk
 © COPYRIGHT ITALIAN INSIDER
UNAUTHORISED REPRODUCTION FORBIDDEN