Roma Fiction Festival 2010 Opens
ROME — The fourth edition of the RomaFictionFest 2010 opened in its usual venues of the Auditorium Conciliazione and the Multisala Adriano, while Industry Week will be held at Lumpsa's Sala Tesi.
The ROMAFICTIONFEST is an event organised by the Roberto Rossellini Foundation for Audiovisuals under the direction of Francesco Gesualdi, and is sponsored by the Regione Lazio, the Italian Television Producers Association (APT) and the Rome Chamber of Commerce. The general director of the event is Michele Misuraca, while the artistic direction has been entrusted for the third year in a row to Steve Della Casa.
Mistress of ceremonies for RomaFictionFest 2010 is Veronica Pivetti, an actress with a string of TV successes to her name.
The international guest of honour who opened the press conference for the presentation of the event was LL COOL J, a world-famous rapper starring inNCIS: Los Angeles, a spin-off of the much praised series CBS Studios International: NCIS, of which RomaFictionFest will be presenting a previously unaired episode in a preview showing. LL COOL J is special agent Sam Hanna, an expert on Middle Eastern culture who works in the Los Angeles special surveillance unit. Kind and ever-willing to lend a helping hand, the US-born actor praised Italian TV.
''In the United States I frequently watch RAI and, though I don't understand what they say I must admit some of the female anchorwomen are really surprising.'' Despite his commitments on the set, the actor and rapper promised that he would try both to support the artistic importance of as well as learn from Italian fiction series. ''I don't want to pose as the American saviour, but with the utmost modesty I have come here to learn to communicate as much as possible, especially since in our country we have always been fascinated with your culture.''
Three editions with steadily rising attendance levels and approval ratings (with over 40,000 present at the 2009 edition) have transformed theRomaFictionFest into the main event for Italian and foreign fiction series. Aimed not only at the public and those working in the field, the festival has become a reference point for the audiovisual sector, both for Italian productions and major international ones, ever present with guests, previews and special events.
The inauguration was a unique event which confirms the international importance acquired on the Roman scene — for the first time a pilot episode of a series not yet aired in the US is being shown in a world premier in Rome. ''The selection that we have on offer for the IV edition of the RomaFictionFest is undoubtedly the most varied and perhaps the most homogeneous in a young, popular festival and for this very reason in constant growth,'' underscored Steve Della Casa. ''The presence of a many talented individuals and a huge number of professionals will make our festival an unrepeatable event both for those working in television fiction and for the public yearning to keep informed and to get to meet with those who make the most popular form of entertainment in the world possible: television fiction series."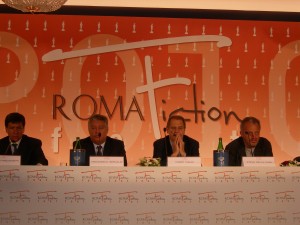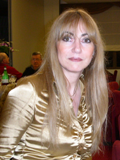 Original article in Italian by Julia-Sandra VIRSTA