Taxi driver arrested for sexual assault of US students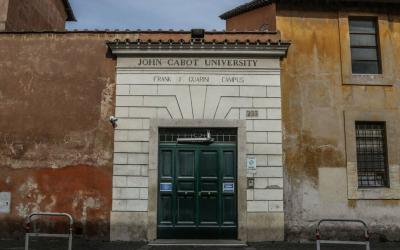 John Cabot University in Trastevere
 ROME – A man in his thirties was arrested on charges of sexually assaulting two young women from the United States, police said. The suspect was taken into custody on Tuesday for an attack on the John Cabot University students that took place in Trastevere in October.
 Antonio Macrì, a taxi driver, is accused of allegedly assaulting the women outside their university apartment. 
 According to one of the students, after spending a boozy evening at a bar together on Oct. 14, the pair had taken a taxi back to their accommodation in Trastevere. Having left the vehicle, one of the young women suddenly felt unwell, close to where the 34 year-old, himself a taxi driver, was waiting. Macrì allegedly took advantage of this illness to sneak up behind the students before groping them and forcing himself upon them in a sexual manner. The two young women managed to escape, however, and called for help while also filming their aggressor.  
 Authorities were able to identify the assailant thanks to the students' testimonies, CCTV footage and images of the man posted on social media.
 Roman magistrate Angela Gerardi, who sent Macrì to prison as a precautionary measure, said in her note "the man did not hesitate to take advantage of the physical conditions of the young women who had clearly been drinking as declared by both and as shown by the images obtained, and who therefore had greater difficulty and less lucidity in opposing his aggression. His sexual impulses were not satisfied with the violence inflicted on the first victim, instead he proceeded to abuse the second victim in the same way, and this was done despite knowing that the first was recording a video and taking photos, proof of an absolute and total incapacity on the part of the accused to control his own instincts."
 es
 © COPYRIGHT ITALIAN INSIDER
UNAUTHORISED REPRODUCTION FORBIDDEN