Commonwealth commemorates those lost in war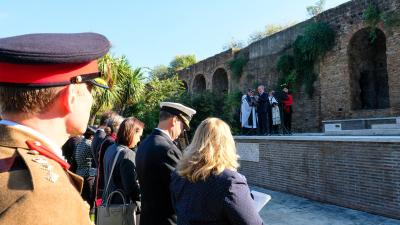 The British Ambassador Lord Llewellyn reading Brooke's poem. Photo credit: Twitter
 ROME – A Commonwealth Remembrance Day service was held in the Rome War Cemetery in Testaccio. The multi-faith act of remembrance on Friday morning was attended by numerous diplomats and military officers from the Commonwealth and other nations, as well as members of the public and a Carabiniere honour guard at the entrance.
 Under a warm sun and clear sky, those present sang hymns, said prayers and laid wreaths. The British Ambassador to Italy, H.E. Lord Edward Llewellyn, recited "The Soldier" by Rupert Brooke, before a two minute silence was observed at the eleventh hour and a Carabiniere bugler then played the Last Post.
 The service took place on the 104th anniversary of the signing of the armistice in the First World War. Yet the ceremony in Testaccio did not commemorate specifically the fallen from any single conflict, serving instead as an expression of remembrance for all who lived and died in the service of humanity.
 The Rev. Robert Warren of All Saints' Anglican Church officiated, together with Mrs Grace Awotwi Pratt Morris-Chapman of Ponte Sant'Angelo Methodist Church and the Rev. Rhona Dunphy from Saint Andrew's Church of Scotland.
 The Rome War Cemetery contains some 426 graves of Commonwealth casualties of the Second World War, including airmen and soldiers who died as prisoners of war in Rome and others who were killed in fighting around the capital.
 es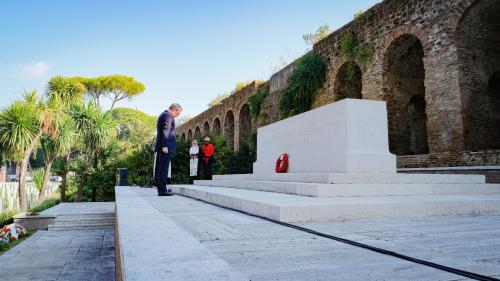 The British Ambassador pays his respects at the cemetery memorial
 © COPYRIGHT ITALIAN INSIDER
UNAUTHORISED REPRODUCTION FORBIDDEN