Remaining migrants disembarked from charity ships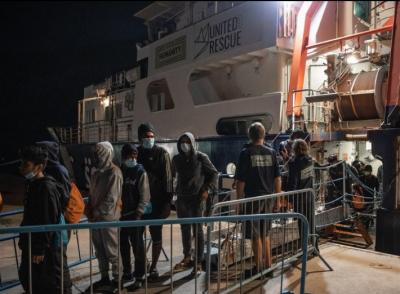 Migrants leaving Humanity 1
 CATANIA – All remaining migrants held on the humanitarian ships Humanity 1 and Geo Barents disembarked onto Sicilian soil on Tuesday after a long standoff between Italian authorities and organisations responsible for the vessels, charities said.
 Tensions began on Sunday after 500 passengers were allowed to leave the NGO rescue ships on the grounds of medical necessity. The remaining 250 people, however, having been refused permission to disembark were told to return to international waters by the Italian authorities. Captains of the vessels ignored this order, claiming it was their legal duty to disembark all those saved at sea in a safe port. 
 The situation escalated on Monday, when two migrants held onboard the Norwegian registered ship Geo Barents jumped into the sea in a desperate attempt to reach the shore only a few feet away. A third man also took the plunge in an apparent attempt to save his fellow migrants. All three were quickly pulled from the water in the port of Catania. 
 Yet on Tuesday Italian authorities made a U-turn on the issue. Following a second medical examination of the rescued migrants, the "high psychological risk" for all those still onboard was given as justification for their disembarkment, which took place on Tuesday evening. SOS Humanity, the charity that runs the German registered ship Humanity 1, published a statement after the development "We are incredibly relieved. However, we are still appalled by the Italian authorities' disregard for the law and human rights."
 Prime Minister Giorgia Meloni was keen to reiterate her government's strong stance on migration, writing on Facebook "Regarding security and the obstruction of illegal immigration, the Italian people expressed themselves clearly in the election, choosing our plan and our vision."
 Italian President Sergio Mattarella seemed to express approval for the move, saying "Italy is a welcoming country."
 es
 © COPYRIGHT ITALIAN INSIDER
UNAUTHORISED REPRODUCTION FORBIDDEN