Earthquakes rock central Italy - schools and trains suspended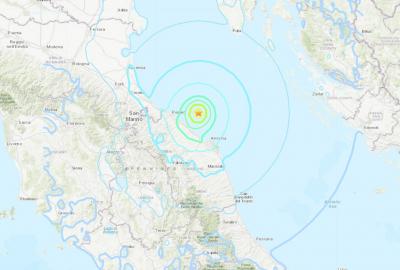 A diagram of the tremor from the United States Geological Survey
 SENIGALLIA – An earthquake shook the East coast of Italy which shattered windows and led to buildings being evacuated, seismologists said. Schools and trainlines in the Marche region were closed in response.
 The first tremor struck just after 7 a.m. on Wednesday, reaching a peak magnitude of 5.6. It was then followed by a magnitude 4.0 tremor five minutes later.  The epicentre was reported to be in the Adriatic Sea, some 25km from Senigallia.
 Residents of the region left their homes and stood in the streets in reaction to the earthquake. A private hospital in Ancona was evacuated by local firefighters due to concerns about the safety of the building.
 A number of cities in the Marche suspended teaching in both schools and universities. The mayor of Ancona, Valeria Mancinelli, said "as a precaution we have suspended lessons in every school in the city, of every sort and every year, from nursery to senior school.  The university will also remain closed."
 Train services were halted on the Adriatic Line due to potential damages to tracks, with other lines such as the Rome-Ancona and Rimini-Ravenna also suspended.
 No deaths or injuries were reported, and no tsunami alert was given related to the earthquake.
 es
 © COPYRIGHT ITALIAN INSIDER
UNAUTHORISED REPRODUCTION FORBIDDEN