Tram hits and kills 14 year old boy on way to school in Milan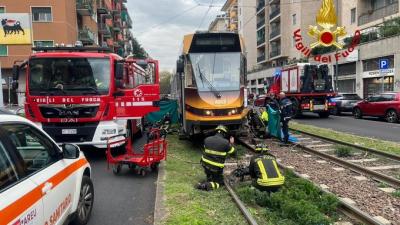 Fire department team arriving at the scene, attempting to save the boy.
 MILAN – On his way to school on Tuesday morning, a 14-year-old student was run over and killed by one of Milan's tram lines, police reported. Mayor Giuseppe Sala announced that "Milan will be in mourning today" on his social pages as well as cancelling all public events for the day on Tuesday.
 An investigation for vehicular manslaughter has been opened and appropriate measures will be taken by Milan's prosecution office to reconstruct the story and possibly prosecute the tram driver in the coming days. As reported by police and medical services on Tuesday, the boy was attempting to cross Via Tito Livio right by his high school at 8:15 in the morning. The line 16 tram was passing on the tracks at the same time and the collision happened, despite attempts to brake in time by the driver.
 As reported by bystanders and the called rescue team, the boy's bike had been broken by the force of the tram and wedged underneath the vehicle, causing the young boy to be trapped underneath.
 The fire department was called by the tram driver, who is willingly taking part in the coming investigation. The rescue team reported that when they arrived at the scene it was too late to save the boy. "The team partially lifted the streetcar and extracted the boy's lifeless body and bicycle," the fire department reported Tuesday. Emergency medical personnel then took the tram operator, in shock, to the hospital.
 Two hours after the accident, the boy's high school was notified of what had happened, and students and teachers observed a minute of silence at 11:30 a.m. A student said during an interview, "We learned what had happened in the second hour after the accident, and we saw his brother coming down to school in tears. He is also a classmate of ours." These interviews with students and bystanders were a part of the initial investigation of how the accident happened. 
 A formal autopsy and investigation of the tram, including on board cameras and videos in the surrounding areas, have been ordered by the prosecutor heading the investigation. The regional president, Attilio Fontana, said, "This is heartbreaking news, Milan expresses deep condolences and closeness to the family of the boy involved in the accident."
gs
 © COPYRIGHT ITALIAN INSIDER
UNAUTHORISED REPRODUCTION FORBIDDEN