Centenary commemorations for Pier Paolo Pasolini, Italy's most controversial poet, writer and film director
Pasolini Study Centre interior
 ROME – This year marks the Centenary of the birth of Italian poet, writer and film director Pier Paolo Pasolini, considered to be one of the most important intellectual influencers of the first half of the 20th century.
 The anniversary is  marked in various parts of Italy, as well as in several countries abroad, including Spain, Scandinavia, Canada, Germany and Croatia.  One of the most important commemorations is a major exhibition on his life and works, programmed in Rome in the separate venues of the National Gallery of Ancient Art Palazzo Barberini, the MAXXI National Museum of XXI Century Art, the Palazzo delle Esposizioni (Exhibition Palace) and the Gallery of Palazzo Merulana.
 Other special events involve Bologna, where he was born on the 5th March 1922 and the small town of Casarsa, near Pordenone (Friuli Venezia Giulia), where he lived with his family  during his formative years. The Pasolini residence is now a Museum and Study Centrecontaining a copious collection of material, including period photographs, some of the celebrated "red notebooks" where he jotted down his thoughts, posters relating to the Marxist protest movements he contributed to, his poems in the Friulian Romance language that he tried desperately to uphold and preserve, and a selection of his drawings and paintings.
 Pasolini was brutally murdered in 1975 at Ostia, a Roman suburb, in mysterious circumstances. A young male prostitute, 17-year old Pino Pelosi, was charged but the true instigators were never discovered.  His remains now lie in the cemetery of  Casarsa della Delizia, the focus of pilgrimages on the part of many admirers of his work, who recite his poems and leave flowers on his grave.
 Pasolini continues to be a controversial figure even half a century after his death. His extreme positions on Marxism and sexual freedom often shocked his contemporaries, as well as his films like  "Hustlers" and"Salo or the 120 Days of Sodoma" (a parody of Fascist corruption and brutality, inspired by Dante's 'Inferno") that were were banned at the time and continue to be unacceptable to the average cinema-goer even today. He was, however, also a visionary who foresaw and denounced the dark side of Capitalism, as well as the future negative effects on traditional societies and values.
 Other films, such as  "The Gospel According to St. Matthew" (1964) and "Medea" (1969) were hailed as masterpieces and brought him international fame.
 At the Pier Paolo Pasolini Study Centre, situated in his mother Susanna's house in Casarsa, the focus is on his writings and his political involvement, as well as his preoccupation with the conservation of the distinctive Friulian language, which he adopted in many of his poems.
 Exhibitions in Rome: "Pier Paolo Pasolini. Tutto é Santo" (All is Holy):
            MAXXI 16th Nov 2022 -12th  Feb.2023  
            Palazzo Barberini 28th Oct 2022 - 13rd Feb. 2023.
            Palazzo Esposizioni 17th Oct 2022 - 20th Jan. 2023
            Palazzo Merulana "PPP Raccontato nel Cuore Cosciente" till 2nd Oct. 2022.
Text & photos By M. STENHOUSE
Info: www.centrostudipierpaolopasolinicasarsa.it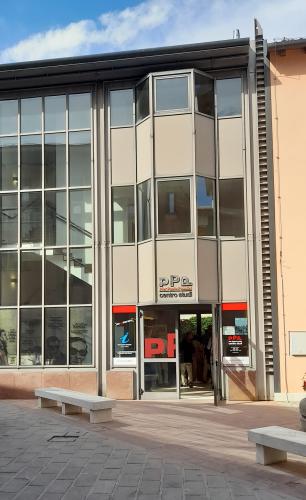 Pasolini's grave Casarsa delle Delizie
 © COPYRIGHT ITALIAN INSIDER
UNAUTHORISED REPRODUCTION FORBIDDEN