SOS Humanity saved 207 people and urgently needs a place of safety for the 415 people on board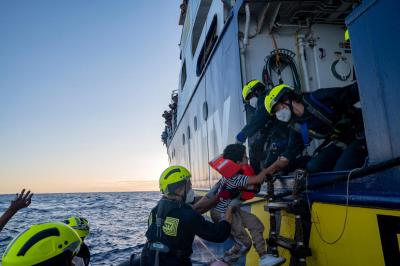 September 13, 2022: The crew of Humanity 1 rescues 207 people. Photo: Arez Ghaderi/SOS Humanity
 BERLIN – Last night, the crew of the Humanity 1 rescued 207 people from distress at sea. After this fourth rescue in seven days, there are 415 survivors on board the rescue ship of the civilian search and rescue organisation SOS Humanity. They urgently need a place of safety. 
 The crew began rescue operations yesterday at 5:31pm CEST after responding to information from Alarm Phone about a boat in severe distress. According to this information, water, food and fuel had run out on board and the boat has been in the Central Mediterranean for several days.   
 Mirka Schäfer, human rights observer for SOS Humanity, and Camilla Kranzusch, press officer, report from aboard the Humanity 1: 
 "For six days we have been on the Humanity 1 with many survivors, searching for a place of safety. In this already difficult situation, we received an emergency call from Alarm Phone. A boat with more than 200 people was in distress more than 20 hours east of us. 
 The situation was extremely serious. Life-threatening. The people on board reported having been at sea for over a week and several days without food or drinking water. Among others, there were pregnant women and many children on the boat.  
 Because we were not informed by any rescue coordination centre, we decided as team, despite the great distance, to fulfil our duty to save lives. The 208 survivors who have been on board the Humanity 1 for days met this decision with understanding and offered their support." 
 The crew of the Humanity 1 received no information from the responsible Maltese Rescue Coordination Centre. Two merchant ships had found the boat in distress and stabilised it but were not equipped to conduct a full rescue operation. 
 Almost half of the survivors on board the Humanity 1, 192 people, are under 18 years old and 113 of them are unaccompanied minors. Many have sustained injuries during their journey. The total of 415 people need a place of safety where they can go ashore immediately. The first request for a place of safety was made by the crew of Humanity 1 on 09.09.2022. Since then, ten further requests have been made without the authorities in charge having allocated a place of safety. 
 © COPYRIGHT ITALIAN INSIDER
UNAUTHORISED REPRODUCTION FORBIDDEN