Pope Francis heads to Kazakhstan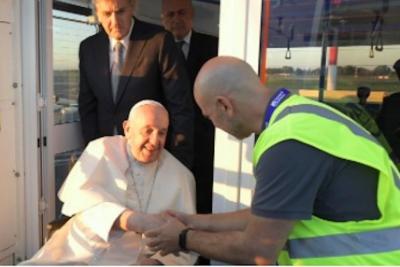 Pope Francis at the airpot, Photo: Santalessandro
 VATICAN CITY – Pope Francis departed on Tuesday a three-day pilgrimage to Kazakhstan, during which he will take a part in the VII Congress of Leaders of World and Traditional Religions, Italian newspapers reported.
 The pontiff tweeted before departure that it would be a "pilgrimage of dialogue and peace."
 ITA Airways' Airbus A330, took off at 7.36 from Fiumicino airport, Italian newspapers reported. Arrival at Nursultan Nazarbayev International Airport was scheduled for 5.45 p.m. local time. It marks the pope's 38th apostolic journey abroad.
 On the occasion of the pilgrimage to the capitol of Kazakhstan the pontiff sent a telegram with greetings to the President of the Republic of Italy Sergio Mattarella.
 "When I am about to leave the soil of Italy to make an apostolic journey to Kazakhstan to take part in the Congress of Leaders of World and Traditional Religions and meet the population and the Catholic community, I would like to address to you, Mr. President and to all Italians my cordial greeting, which I accompany with wishes of serenity and harmony, together with my prayer to God for the good and progress of the whole nation."
 The pontiff was scheduled return to Rome on Thursday evening, around 8 p.m.
ak-jp
 © COPYRIGHT ITALIAN INSIDER
UNAUTHORISED REPRODUCTION FORBIDDEN