Six probed for incitement to suicide of boy, 13, who tumbled from 4th floor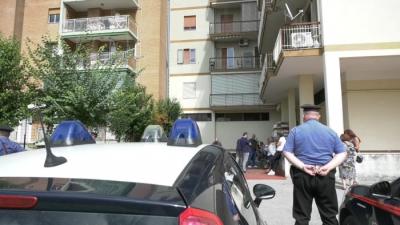 Carabinieri in front of the family building of Alessandro Cascone, Photo: Ottopagine.it
 NAPLES – A 13-year-old boy, Alessandro Cascone, from Gragnano, died after falling from the window of his family apartment on the fourth floor, Italian newspapers reported. Six people are being investigated for suspected incitement to suicide in the case, police said.
 Five minors and one adult have been identified as alleged authors of messages of insults and threats sent to the mobile phone of Alessandro, the police sources said. Investigations are underway on their account, conducted by the prosecutor of the court for minors of Naples and the prosecutor of Torre Annunziata.
 "We are carrying out all the investigations and checks on the sites and messages, from which to draw information," said Interior Minister Luciana Lamorgese in her speech at the Ambrosetti Forum in Cernobbio.
 One of the last messages sent from Alessandro's mobile phone, sent to his girlfriend, can be read as farewell. 
 The examination of 13 years-old boy's mobile phone revealed aggressive messages from cybercriminals. In one of these messages it would have been explicitly written: "Kill yourself."
 Investigators suppose Alessandro was distressed by the intimidating messages and could have fallen victim to a spiral of increasingly pressing virtual threats. Threats directed at him were sent from boys, who were probably from close surroundings, which could have increased the sense of danger.
 Regarding Alessandro's tragedy, the mayor of Gragnano, Nello D'Auria, announced city mourning that will be held on the day of the funeral. Meanwhile, the boy's body remains in the morgue of Castellammare di Stabia, waiting for the judiciary to order an autopsy, police said.
ak-jp
 © COPYRIGHT ITALIAN INSIDER
UNAUTHORISED REPRODUCTION FORBIDDEN