Cutmore and Kothari snatch dramatic platform gold as Harper wins springboard bronze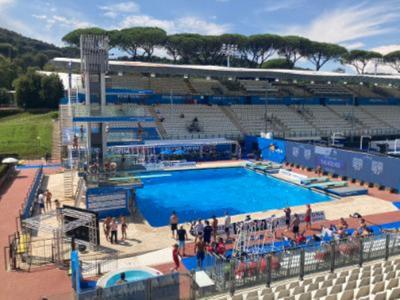 The Foro Italico pool saw Ben Cutmore and Kyle Kothari win gold and Yasmin Harper silver
 ROME – It was another brilliant day in the Foro Italico pool for Team GB's divers as they picked up a further two medals at the 2022 European Aquatics Championships. Ben Cutmore and Kyle Kothari won gold in a synchronised platform final that was decided in the final round, while Yasmin Harper won bronze in the 3m springboard final.
 Cutmore and Kothari made a composed start to the final and were in third place after the second round of dives. They then climbed up to second place after round three where 10.68 points separated them from the Ukrainian duo of Kirill Boliukh and Oleksii Sereda.
 The British pair then began to close the gap over the next two dives until heading into the final round of dives the gap had narrowed to 5.52 to give themselves a chance of the win.
 In the final round they showed great composure to execute their dive, and with the Ukrainians faltering, took gold with a total of 390.48 points. Boliukh and Sereda took the silver with 388.02 and the Germans Timo Barthel and Jaden Eikermann finished third with 369.30.
 Speaking to the Insider after the win Kothari said that it felt better than that the mixed title he won alongside Lois Toulson earlier in the week.
 "This one was sweeter than the gold the other day for sure because even though it was close the other day, today it was an Olympic event. It was the main event for both of us coming here and the one we wanted to do well in. The fact we managed to get a gold. Both of us were jumping up and down as soon as the scores came up for the Ukrainians' dives. Alex our coach told us to calm down and wait for the Germans to go but I knew at that point we had won."
The pair both felt that had something to prove heading into the championships and were rewarded with the gold.
Cutmore said that "for me just missing out twice on a medal at the Commonwealth Games made me really hungry and drive to try and get a medal here. This morning when I woke up, I looked at Kyle's gold medal and was like 'I want one of those.' Kyle said let's keep it chill and we'll go for a medal of any colour but I was like 'I want one of those' [gold medal]. So, I feel like I've been really driven and really motivated the whole time I've been here and I really like this pool as well which helps a lot.
Kothari finished by saying, "for me it was my first senior Europeans although I'm a grandad on the team. A lot of the coaches were saying that they hadn't seen me diving in eight years because they remember me from the 2014 World Junior Championships because I've gone through so many injuries. I think that I had a bit of a point to prove that I could actually medal at a senior championships. For me this was the most major championships I've had in a long time so that was enough motivation."
Yasmin Harper then won a bronze medal it the 3m springboard to round off a success day for Team GB.
Harper finished with 296.20 to take home a comfortable bronze medal behind Michelle Heimberg of Switzerland in silver and Italian Chiara Pellacani who won gold.
Speaking to the Insider after Harper said that "I am so please. It's the last competition of the season. Normally we'd be done by now so I'm a little tired but happy to end on a high.
"I think it was probably after my round 3 dive where I was like 'I've have to keep it up now' but from the beginning I was really hoping to put in some good dives to get a result today."
Great Britain finish the day in third place in the medal table with eight gold, six silvers and eight bronzes.
 © COPYRIGHT ITALIAN INSIDER
UNAUTHORISED REPRODUCTION FORBIDDEN