Ben Proud wins 50m freestyle gold as Imogen Clarke claims 50m breaststroke bronze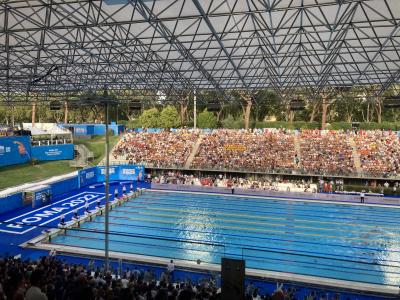 On its final night the Foro Italico pool saw Ben Proud win gold and Imogen Clarke bronze
 ROME – Ben Proud rounded off the swimming section of the 2022 European Aquatics Championships by winning gold in the 50m freestyle, while Imogen Clarke added a bronze medal in the 50m breaststroke.
 Proud claimed victory in the first final of the evening in a time of 21.58, touching in ahead of the Italian Leonardo Deplano, who finished second in 21.60, and the Greek Kristian Gkolomeev, who won bronze in 21.75.
 Proud finished off an excellent individual summer by becoming the first man to ever win a World, Commonwealth and European title in the same year.
 Speaking in the mixed zone after the race, Proud reflected on the journey that he had been on over the past year to get to this point.
 "I mean this year has just been strange. Twelve months ago, I was trying to disappear and get my head to myself at a time which was probably the worst of my swimming career. I was putting pressure on me that I didn't need. I hit rock bottom and I went through a really tough winter and got to the point where I was about to walk away from the sport.
 "So, I started making changes and the most important thing was that I was true to myself. I went to places I wanted to go to. Took time off when I needed it and I've had some brilliant support from people this year who've all played different roles to get me where I am.
 "Physically this year I've just not had the training because I was not doing nearly what I've done in the past. I gave myself time to recover but also trying to find my direction again. So physically that's how it felt and I do have some stuff I need to work on for next year. The swim is there but the endurance is not, but also the mental side of it. I came into this meet to enjoy it but knowing myself I wasn't coming here to come second. I'm just grateful to have swum quick enough."
 Imogen Clarke then won a well-deserved bronze in the women's 50m breaststroke. She clocked a time of 30.31 to get on the podium alongside Lithuanian gold medallist Ruta Meilutyte and Italian silver medallist Benedetta Pilato.
 In the evening's other British action in the pool Laura Stephens and Keanna MacInnes finished in fourth and sixth respectively in the 200m butterfly final.
 In the relays the women's quarter of Medi Harris, Kara Hanlon, Keanna MacInnes and Freya Anderson finished in fifth while the men's team of Luke Greenback, James Wilby, Edward Mildred and Thomas Dean finished just outside of the medals in fourth in their final.
 Overall, Great Britain finish the day third in the medal table with six golds, six silvers and seven bronzes on the seventh day of the Championships.
 © COPYRIGHT ITALIAN INSIDER
UNAUTHORISED REPRODUCTION FORBIDDEN