Tourism booms in Italy, returning to pre-pandemic levels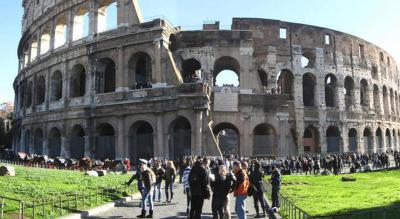 Tourists at the Colosseum in Rome, Photo: Il Mattino
 ROME – Studies carried out by Confcommercio have reported a significant increase in foreign tourism in Italy, especially from America. A survey conducted by CNA Toursim and Commerce predicts over 10 million tourists to visit Italy over Ferragosto next Monday, spending around 3.5 billion euros. 
 American tourism has returned 2019 levels, with 4.4 million visitors to accommodation facilities between July and September. However, Asian tourism has since reduced, and Russian tourism has almost been wiped out completely.
 According to studies, the total expenditure from tourists in Italy from July to September is expected to total 17 billion euros, returning to pre-pandemic earnings. Spending by Americans will be over 2.1 billion euros, which is a value 20% higher compared to 2019. In European countries, a noticeable recovery of foreign tourism towards Italy has been recorded.
 During the summer period from June to September, tourism from Spain is expected to recover its 2019 passenger value with around one million visitors estimated. The United Kingdom's tourism continues its month-over-month recovery compared to pre-pandemic times. The arrivals from UK are estimated at 16%, which is six percent less passengers than in 2019. However, German tourism records a decline in airplane arrivals by 27% due to numerous strikes at the airports this summer.
 The Confcommercio study also revealed that the pandemic and the war in Ukraine has changed the tourism habits and has increased uncertainty in travel planning. Airline tickets are booked ever closer to departure, on average from 79 to 61 days. For Americans, the time to purchase a ticket before departure has decreased on average from 103 to 80 days, while for Japanese travellers it is from 76 to 32 days.
 The president of Confcommercio Carlo Sangalli commented on foreign tourism in Italy: "Foreign arrivals are at a good level, tourism is a priority for the next government." However, he also highlighted some uncertainties connected with the tourism market.
 "The return, after three years, of foreign tourism, helps to consolidate our economic recovery. The prospects, however, are uncertain due to the decrease in consumption, the turmoil in air transport and the uncertainties of the pandemic. Support for the tourism sector is among the priorities of the next executive in terms of combating expensive energy and reducing the tax burden," concluded Sangalli.
ak-al
 © COPYRIGHT ITALIAN INSIDER
UNAUTHORISED REPRODUCTION FORBIDDEN