'Where there's a will there's a way,' vows Lord Llewellyn on driving licence issue in exclusive interview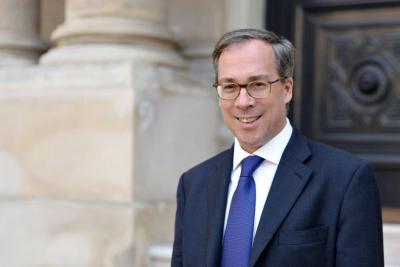 Ambassador Lord Edward Llewellyn said that he is hopeful of a resolution to the issue of driving licenses for UK citizens in Italy. Photo: Pierluigi Puglia
  ROME – The United Kingdom is hopeful that a resolution will be possible to solve the longstanding thorny issue of UK citizens' driving licences in Italy, the British Ambassador, Lord Edward Llewellyn, has confirmed. In his first exclusive English-language media interview with the Italian Insider, he also pledged that the plight of British lecturers discriminated against for decades in Italian universities "can be resolved."
 Lord Llewellyn was only officially sworn into his ambassadorship in April 2022 but he has wasted no time in getting down to business. In his first 100 days as ambassador, he has visited all 20 Italian regions from Aosta down to Sicily.
 "Time is flying" the ambassador tells me in his office at the British Embassy in Porta Pia. On his visits to the 20 regions, he says that "it was a real education for me going round the country mainly by train seeing the elect presidents of the region, the mayors of those cities, doing town hall meetings with British citizens and talking to students at university." 
 Overall, he notes that his travels through Italy, "really bore on me the incredible diversity of this country which everybody talks about" and he went on to say that "perhaps the highlight was on my first visit when I went to Naples where I used to live when I was a kid."
 Although the ambassador went to school in England, from aged eight to eleven he lived just outside of Pozzuoli and on his first official visit as ambassador he returned to his old house for the very first time since he was a child, in what he described as quite a poignant moment.
 "It was very emotional. It was quite emotional for the people living there too. Setting foot in the house I grew up in as a kid brought back a lot of memories and of course it hadn't really changed and it was exactly like I remembered it. There were very vivid memories and it's really where my love for and my relationship with this country began."
 One of the key issues for the ambassador which will have to be dealt with during his time is Brexit which has had a profound impact on the UK's relationship with Europe, including here in Italy too.
 In terms of the short term impact the ambassador said that "obviously our departure from the European Union has brought changes to our arrangements with regards to British citizens living here and travelling here" but he reaffirmed that "there is an enormous affection between Britain and Italy.
 "For British citizens living here, of course it has affected them, but they have rights under the withdrawal agreement. It is the job of the embassy to monitor and make sures those rights are being respected."
 One of the key issues at this minute in time for British citizens in Italy is that of driving licences. Currently, British citizens who moved here before January 1, 2022 are able to use their licences up until December 31, 2022. Those who moved to Italy after January 1, 2022 are currently permitted to use them only for a period of twelve months with an agreement still to be reached on the issue.
 In the interview, Lord Llewellyn was very keen to stress that this is a priority issue for him and his staff and that he hopes that a resolution will be possible.
 "We are working with the Italian authorities to negotiate this agreement which would allow the exchange of licences. Those discussions are continuing through August. I was in touch with the Italian transport minister last week and the week before last. My team and my colleagues in London are absolutely on this. My message is that it is absolutely at the top of my agenda and I understand how important it is for British citizens living here and who depend on their cars.
 "We want to reach an agreement and our Italian colleagues want to reach an agreement. The Italian transport minister has always been very clear with me so there's plenty of goodwill and as the expression goes 'where there's a will there's a way.' There are technical things that we need to work through. There are legal issues that we need to work through but those conversations are happening and we are clear what our objective is."
 A long standing issue regarding Anglo-Italian relations that the ambassador hopes to change during his time here in Rome is that of UK university lecturers, also known as lettori, being discriminated against by the Italian university system.
 Back in July 2021 the Italian Insider reported that the European Court of Justice had repeatedly found Italy to be in breach of EU Treaty by not guaranteeing equal treatment concerning wages, pension rights, contract duration and access to jobs for foreign professors and lecturers working in Italian universities.
 The ambassador acknowledged that he was aware of the issue and its recent discussion in UK Parliament and that he was hopeful of a solution.
 "It's an important and longstanding issue that dates back to a European Court of Justice decision in 2001 and the commission has recently taken steps on it in September last year. We are aware of the issue and we will continue to raise it with our Italian counterparts and our minister for Europe recently answered to a member of parliament in the House of Commons. We will continue to follow this issue and hopefully it can be resolved."
 The ongoing conflict in Ukraine has had a profound impact of the four months that the ambassador has been here in Italy for, even from his first day when he arrived and went to see his Ukrainian counterparts in Rome to offer his solidarity. In his first week he also visited a church that was collecting supplies for the Ukrainian people and he stressed the importance of Anglo-Italian defence ties in these times.
 "You've seen in the last few months how the people of the UK have been standing shoulder to shoulder with the people of Ukraine but we've be doing so alongside our Italian colleagues and the response of the Italian government has been strong in that in period and indeed that of the Italian people.
 "Specifically on the defence side, Italy and the UK are close defence partners. Our Armed Forces work alongside each other in the Mediterranean. They work alongside each other in the rest of the world, including recently in NATO's exercises, and that relationship has only been strengthened sadly since February."
 To close, the ambassador outlined his plans to host more in person events at the embassy following the success of previous events this summer, including for the Queen's jubilee celebrations which 2,000 people attended.
 "I'm looking forward to doing lots more along those lines and there is such potential in the relationship between the UK and Italy. We are two countries that know each other well, like each other and are friends.
 "Ultimately the relationships between people and peoples is so important. I found that. I believe in that very strongly."
 He referenced a scheme which had been set up during his time in France called 'The Neighbours' which aimed to strengthen ties between French citizens living in the UK and British citizens living in France and he confirmed that he is "looking at how to do that" for a similar scheme in Italy.
 To close, the British Ambassador issued a final message to readers of the Italian Insider.
 "I'm so honoured and delighted to be starting here as the British Ambassador. I want to be as open as possible to British citizens living in Italy. This is your embassy and I want to get out and meet as many of you as possible. I look forward to throwing open as much as much as possible the embassy and the residence to host Brits but also of course Italians.
 "The whole point of this embassy and of diplomacy is to represent our country and advance its interests but also to strengthen the ties that bind – the ties of friendship and the values that our countries share."
jd 
 © COPYRIGHT ITALIAN INSIDER
UNAUTHORISED REPRODUCTION FORBIDDEN