Roman treasure unearthed from thermal baths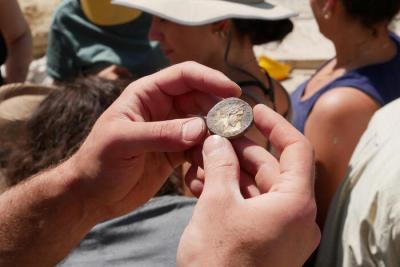 Coins were excavated from the recently discovered sanctuary
 SAN CASCIANO – Unique treasures have been found at some thermals baths in Tuscany, Italian newswire ANSA have reported.
 Archaeologists had already been working for three years on the site which is noted for the discovery of a large vase and an altar decorated with an image of a bull, typical from the Hellenistic period.
 However, the biggest surprise came last week with the discovery of an original sanctuary which the Romans had tried to rebuild into a monument.
 A treasure trove of bronze and silver coins were found which archaeologists think were intended as offerings to an emperor.
 "It is a unique find in Italy and the whole of the Mediterranean," highlighted Jacopo Tabolli, from the University of Sienna, who has been working on the excavations from the very start.
 "The size of the sanctuary was much bigger than we expected with a number of sacred buildings, altars and pools. What is astonishing is the quality and rarity of the treasure trove of objects that have been found in the last week of excavations."
 Italy's minister for culture Dario Franceschini added that it was a "truly exceptional discovery that reinforces the importance of the excavation and the excellent work carried out in recent years."
 Further excavations of the 2,000 year old site are set to take place throughout the autumn.
jd
 © COPYRIGHT ITALIAN INSIDER
UNAUTHORISED REPRODUCTION FORBIDDEN