Fire damages sets at historic Cinecittà Rome film studio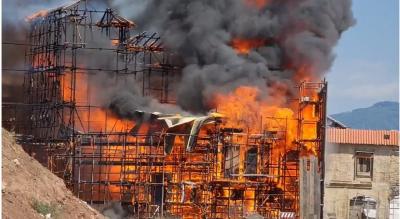 The fire broke out at 3:30 p.m. causing damage to two sets
 ROME – The sets of 'Firenze Rinascimentale Mincacciata' and 'La Casa del Grande Fratello' have been damaged in a fire that broke out at the historic Cinecittà film studios, the local fire brigade have confirmed.
 The fire reportedly started at 3:30 p.m. although there were no one was injured.  
 Three firefighting teams were deployed to try and put of the flames and save the studio with the situation now under control.
 The flames also reportedly cause a couple of small explosions and a large cloud of smoke could be seen rising from above the studio. However, the cause of the fire remains unknown.
 The streets of via Lamors and via Scintu have been closed to allow emergency vehicle access.
 Currently on the site are the Cinecittà police force who will carry on an investigation once the fire has been completely extinguished and a secure area has been set up.
 A spokesperson for Cinecittà said that "a fire has broken out in an area where a set was being decommissioned."
 The fire halted filming of a movie by Charlize Theron. Natalia Barbosa, a production coordinator for the movie said that "we've lost two days of filming."
 Cinecittà was built in the 1930s and is the largest film studio in Europe. It has been used by noted directors including Italians Federico Fellini and Roberto Rossellini as well as Martin Scorsese and Mel Gibson.
 In 2007 a fire broke out at the studio damaging 3,000 m² of the studio and in 2012 another fire damaged the Teatro 5 part of the studios where La Dolce Vita was filmed.
 © COPYRIGHT ITALIAN INSIDER
UNAUTHORISED REPRODUCTION FORBIDDEN