Brutal killing of disabled African migrant sparks outrage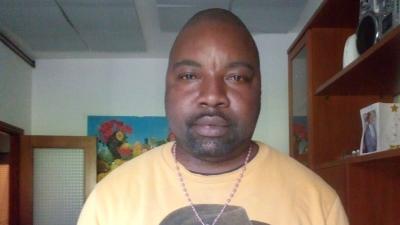 The victim was named as 39-year-old Alika Ogorchukwu
 CIVITANOVA MARCHE –  An African migrant has been brutally murdered in broad daylight while onlookers watched in a recording that has gone viral on social media.
 The video shows Alika Ogorchukwu being pressed against the ground by a white man on Friday in the Adriatic Beach town of Civitanova Marche.
 The attack happened after the 39-year-old reportedly was making insistent requests to sell handkerchiefs and grabbed a woman's arm.
 The attacker is said to have used a crutch that the Nigerian street seller used to beat him to the floor.
 Police have confirmed that a Filippo Ferlazzo, a 32-year-old man from Salerno has been arrested on suspicion of murder.
 Police investigator Matteo Luconi told a press conference: "The aggressor went after the victim, first hitting him with a crutch. He made him fall to the ground, then he finished, causing the death, striking repeatedly with his bare hands".
 Ogorchukwu's wife said at a rally held on Saturday in the local community that "I want to look that man in the eye and ask him why he killed my husband. There were so many people around, why didn't anyone help him? I want justice now."
 The video sparked outrage across the political spectrum with Enrico Letta, the leader of the Democratic Party said that the murder was "dismaying. It is unheard of it is ferocity and the widespread indifference of the people. There can be no justification" in a message posted to Twitter.
 Matteo Salvini, the leader of the League, said that "security has no colour and needs to return to being a right."
jd
 © COPYRIGHT ITALIAN INSIDER
UNAUTHORISED REPRODUCTION FORBIDDEN