Italy knocked out of 2022 Euros after Belgium defeat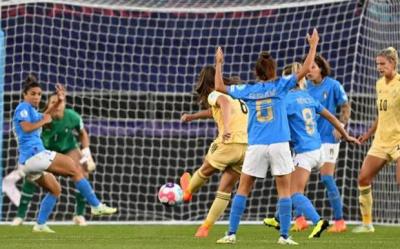 Italy were knocked out after a tight 1-0 defeat
MANCHESTER - The Italian women's national team's UEFA European Championship hopes have ended after a tight 1-0 defeat to Belgium in their final group match.
 Tine De Caigny's second half goal was the difference on the evening and means that Italy will be heading home from the tournament early.
 Heading into the match both teams knew that a win could ensure passage into the quarter-finals. The first chance of the game fell to Italy when Barbara Bonansea found space in behind the Belgium defence and flashed a shot across goal that Nicky Evrard pushed away for a corner.
 The deadlock was broken four minutes into the second half when De Caigny pounced on a loose ball inside the box to curl the ball into the bottom corner.
 Italy fought back and were unlucky not to draw level when Cristiana Girelli hit the crossbar with an effort from the edge of the area.
 In the dying minutes on a Belgian counterattack Tessa Wullaert hit the post but in the end in didn't matter as Belgium sealed the qualification and eliminated Italy.
 Overall, Italy finished bottom of their group with one point following a 5-1 defeat to France, a 1-1 draw with Iceland and last night's narrow 1-0 defeat to Belgium.
 Speaking after the match Italy coach Milena Bertolini emphasised the positives that could be taken from the tournament despite the Azzurre's group stage exit. "The girls played well; they gave everything they had. This tournament has been an important experience and it will help us grow for the future. We'll analyse our mistakes and take with us the good things we did, in order to improve."
 Bonansea added that "Yes, we lost but we learnt that nothing can be taken for granted. Every moment should be cherished, so I'll look back at this tournament with a smile."
 © COPYRIGHT ITALIAN INSIDER
UNAUTHORISED REPRODUCTION FORBIDDEN