AC Milan footballer Bakayoko stopped by police at gunpoint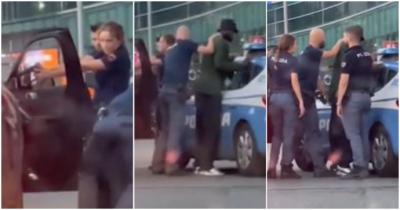 Bakayoko was searched by armed officers
 Milan – In a video released on social media French midfielder Tiémoué Bakayoko was pulled from his car and searched by armed police in a case of "mistaken identity" although accusations have been made of racial profiling.
 The midfielder, who is currently on loan from English side Chelsea, was stopped back at the start of on July 3, but the story has only now surface following footage retweeted on social media by Sport Italia journalist Tancredi Palmeri.
 Bakayoko was reportedly in the car in the Porta Garibaldi area along with a friend when the Milan authorities stopped him.
 He was then stopped and searched by police with guns at around 6am at a police roadblock in what is thought to be a case of mistaken identity after the police were searching for a criminal following a shootout the previous evening in which one person was taken to hospital.
The case has drawn criticism due to accusations of racism and racial profiling with Amnesty Italy stressing that the footage "suggest ethnic profiling" and a "discriminatory practice" that for "a non-famous person could have had serious consequences."
 However, the Milan police denied this saying in a statement that "These comments are out of place. The check was triggered because Bakayoko and the other passenger corresponded perfectly, by chance, to the descriptions [of people wanted by the police], and of course it ended when it was realised that he [the police officer] had stopped a person who had nothing to do with it."
 A spokesperson from AC Milan said that "After a shootout in the area where the midfielder happened to be, the police started making checks. The player was stopped but as soon as the police verified that he had nothing to do with what happened, they apologised and let him go."
JD
 © COPYRIGHT ITALIAN INSIDER
UNAUTHORISED REPRODUCTION FORBIDDEN