Poland's Małopolska region to be promoted in Tuscany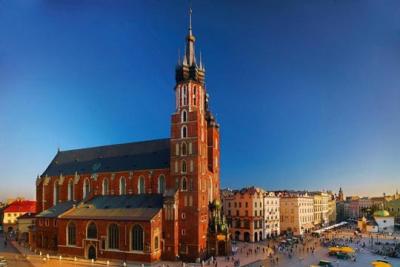 The Basilica of Santa Maria in Krakow, Photo: Polish Tourism Organisation
 FLORENCE – A number of events will take place in Tuscany between 21 and 24 July to promote the Małopolska region of Poland.
 Tuscany and Małopolska are two regions that have much in common, such as UNESCO heritage, a rich culture, history, diverse nature, and traditional cuisine. For this reason, a cooperation was made, promoted by the Polish National Tourist Board, between the Małopolska Region Promotion Body and Toscana Promozione Turistica. As part of the project to present Małopolska in Tuscany, promotional events are planned from 21 to 24 July. They will take place in three Italian cities: San Gimignano, Siena, and Florence. Promotional campers of the Małopolska region will go between cities, offering a degustation of typical products, as well as presenting competitions.
 The Małopolska Region with a capital in Krakow is an interesting touristic destination to discover. This region of Poland is located in the southern part of the country. From a cultural and historic point of view is the richest area with eight UNESCO World Heritage sites.
 Krakow is one of the oldest cities in Poland and was previously its capital. There are over five thousand places of historical importance in the city, including the Royal Castle on the Wawel, the ancient residence of kings, the Basilica of Santa Maria, Sukiennice, the Textile Market, and the Jagiellonian University, Poland's longest-running university. The historical city centre of Krakow is considered as one of the 12 most precious architectural complexes in the world, and the Kazimierz Jewish quarter and the Wawel Castle are on the UNESCO World Heritage List.
 Typical of the Małopolska region is also wooden architecture, represented by hundreds of Orthodox and Catholics churches in Debno, Binarowa, Lipnica, Murowana and Zakopane, a well-known ski destination located in the Tatry Mountains. For those who would like to admire the wooden buildings, evidence of ancient times, there is one of the six Paths of Architecture in Wood in Małopolska, which is over 1500 km long. Another unique place in the region is the "painted village" of Zalipie, the buildings of which are decorated with colorful plant paintings. This artistic tradition was born more than a century ago.
 The nature of the south-western part of Poland is very diverse. The region is rich in parks, nature reserves, picturesque landscapes, thermal waters with highly beneficial properties and mountains, including majestic Tatra Mountains, Beskids and Pieniny.
 Małopolska also has the largest number of foods registered in the list of traditional foods, Protected Geographical Indication (PGI) and Protected Designation of Origin (PDO) in the country. Among the traditional products, distinguished by the Guaranteed Traditional Specialties (TSG), are various sausages and cured meats, fresh and aged cheeses, different types of traditional bread, butter from Rzuchów, milk from Polish red breed cows, apples, and plums.
al-al
The Tatry Mountains, Photo: Polish Tourism Organisation
 © COPYRIGHT ITALIAN INSIDER
UNAUTHORISED REPRODUCTION FORBIDDEN