Rome mayor pledges to clean up city 'within a week'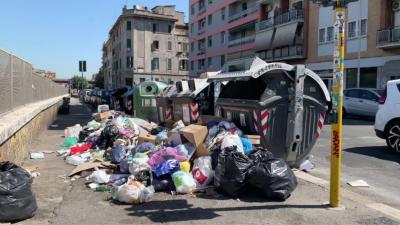 The rubbish has been exacerbated in recent weeks with the fire at the Malagrotta processing centre
 ROME – The mayor of the Eternal City, Roberto Gualtieri, said that the rubbish emergency in the city will be cleared within a week in an interview in which he discussed several topics given to the radio station RTL 102.5.
 The problem of rubbish collection is the city, which has been rumbling on for months in the city and has even attracted wild boar to the city, has recently been exacerbated by a fire which broke out at the Malagrotta processing centre earlier this month.
 Following the fire, he said that "we are working very quickly to clean the city and within a week the crisis will have been dealt with. Then to reach excellence and for Rome to be as clean as it deserves will take a couple of years" the mayor added.
 "I have to explain to citizens that the largest processing plant which processes 8,000 tonnes of rubbish a week is on fire and is not able to be used. It is clear that some of the rubbish, as long as alternative solutions aren't found, will remain on the street. We are working really quickly to tackle this situation" continued Gualtieri highlighting that "in a week I think that the crisis will have been dealt with."
 The mayor also spoke on other topics including his collaboration with former Rome mayor Ignazio Marino. "We have started to work together for an exhibition and an unveiling of the project and I will call him soon to continue our discussion" added the mayor.
 The project will see the city launch its first virtual reality bus with citizens able to travel 2,000 years back in time to explore Rome's ancient history and most well know landmarks including Imperial Fora, Colosseum, Palatine Hill, Circus Maximus and Theatre of Marcellus.
 The mayor then finished off the interview by responding to questions about public transport in the city.
"Free public transport as is being introduced in Germany and Spain is very important and appreciated. The state invests and we have the resources that can be used. It is not necessary to make a change or increase tax. We can therefore really help workers on low income and pensioners. There are the resources to do what has been done in Germany and Spain" the mayor rounded off by saying.
 jd
 © COPYRIGHT ITALIAN INSIDER
UNAUTHORISED REPRODUCTION FORBIDDEN