City councillors vote in favour of increased allowance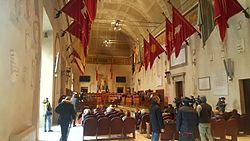 ROME – City councillors voted unanimously to give themselves a pay rise, as the budget adjusts to 2 million euros. 
 Posing a united front, Rome city councillors unsurprisingly voted in favour of a hefty rise in their allowance, approved on July 8. 
 The Budget Committee discussed the 'adjustments' to the budget on Friday. It is expected that the final verdict will be decided within the next few days for the vote that received bipartisan support.
 Amongst only a few exceptions, Carmine Barbati, a councillor of Mayor, Roberto Gualtieri's Civic list, was the only one to speak up about it. 
 "It's not the right time," he commented. Barbati did not turn up for the vote, though the councillor who went in his place voted in favour of the pay rise. 
 Other councillors refused to make a statement justifying their vote to increase their allowance.
 The figure is expected to be over 3,000 euros a month for each councillor, compared to 2,000 euros before. The adjustment of city councillors' allowances has been in the works for almost ten years. The committee's vote was part of a 2010 national provision that gave Roma Capitale statutory, administrative, and financial autonomy. The law states that 'the Capitoline councillors have the right to receive an all-inclusive function allowance which is also determined by decree of the Minister of the Interior in agreement with the Minister of the Economy and Finance, after consulting the Capitoline Assembly, in a share of the mayor's allowance.' 
 Councillors must attend at least 60 percent of council meetings and at least 20 meetings between commissions and the Chamber of Deputies, to receive the allowance that is set at 45 percent of that paid to the mayor. Currently, days of absence of the city councillors are reimbursed by the Municipality of Rome. 
 Under the new system, there will be a fixed allowance, like a salary. The councillors who voted in favour argue that this payment method could save money due to the stability this fixed allowance would provide, unlike the reimbursement method that varies heavily depending on days of absence. 
 The State are also set to give just over 327,000 euros as a contribution to the higher charges resulting from the increase in salaries, as well as the two million euros from municipal funds. 
 al
 © COPYRIGHT ITALIAN INSIDER
UNAUTHORISED REPRODUCTION FORBIDDEN