European Swimming Championships: 'We are expecting lots of spectators and unique emotions'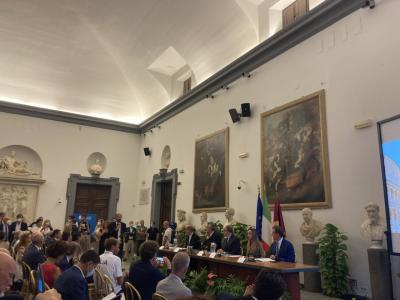 The press conference was held at Campidoglio.
 ROME - The medals and official video for the 2022 European Swimming Championships were unveiled in front of sponsors, the media and officials in a press conference held at Campidoglio.
 The championships are scheduled to be held in Rome from 11 August to 21 August and will be held at the Foro Italico and well as Ostia.
 Over 1500 athletes from across 50 countries will compete in the Italian capital for the 231 medals on offer. Among the aquatic events will be swimming, synchronised swimming, open water swimming and diving.
 In attendance was the president of the Italian Swimming Federation, Paolo Barelli, the mayor of Rome, Roberto Gualtieri, the sports minister Valentina Vezzali, the President of the Lazio region, Nicola Zingaretti and the President of sport and health, Vito Cozzoli. The event was moderated by Olympic champion Massimiliano Rosolino.
 Also in attendance were current Italian athletes, including synchronise swimming duo Giorgio Minisini and Lucrezia Ruggiero, as well as gold-medal winning Olympic swimmer Gregorio Paltrinieri
 Minisini said that "After seeing the medals for the first time, I wanted to touch them, but you have to earn a medal. Watching the World Championships in Rome 2009 when I was 13 years old, I realised that I wanted to be an athlete like them. I hope that the people who will come to see us, enjoy themselves and find the inspiration to achieve what they want in the future."
 The medals have been made in the historic Fratelli Mortet workshop and have two separate designs on each side. On one side there is an aquatic themed designed and the on the reverse there is a depiction of the Coliseum as well as the official Rome 2022 logo
 "I keep thinking that I can't wait to compete," the Rome native Ruggiero said. "It is normal that you want to relive the feelings of when you stand on the top of the podium, but as an athlete it is important to stay focused and calm, because goals can only be achieved through work."
 "It is an incredible emotion to compete at the Foro Italico, the most beautiful pool in the world," multiple world and Olympic medallist Gregorio Paltrinieri adds. "Swimming is an individual sport, but we as Italy are a very united team. It was a fantastic World Championship for us and we hope to repeat the feat. There is no pressure, the races will be very similar to the World Championships because as Europeans we are all fighting for the podium. I will try to get five out of five (gold medals)."
 The official video was also revealed at the event in which Paltrinieri together with the Ukrainian swimmer Karyna Snitko drive a vespa scooter though the streets of the eternal city.
 Speaking ahead of the championships Barelli commented said "I think it will be an exciting event with outstanding facilities. The stands will be full and the best athletes from Europe and Italy will be competing. I am sure that our athletes will do us proud."
 Mayor Gualtieri then said "swimming and water sports have always been very important for this city and we are coming off the back of extraordinary success at the World Championships in Budapest. These are important championships for the added visibility that Rome and Lazio will get and the friendships that will be made between people, as show in the video."
 In the press conference Valentina Vezzali then followed by saying "the city of Rome will once again be the capital of sport. The European Championships will be a driving force for tourism, economic growth and will bring young people even closer to sport. It will be a great event that will enhance the beauty of Rome."
 President of the Lazio region Zingaretti added that "I am always happy when such an adventure begins and this time even more so because we first started talking about this in 2019 before the pandemic. The event will help to celebrate Italian champions and the facilities will be used again after the Championships."
 Cozzoli then finished by saying "the unique appeal of swimming, the great beauty of Rome and spectators from all over the world are unique ingredients for an unforgettable event. Good luck to everyone!"
 © COPYRIGHT ITALIAN INSIDER
UNAUTHORISED REPRODUCTION FORBIDDEN