Pope Francis: 'Resigning? It has never crossed my mind'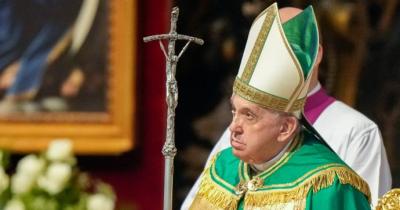 In an interview with Reuters the pope denied he was contemplating resigning
VATICAN CITY - The pontiff gave an interview to Reuters in which he shut down the possibility that he could be forced to leave his role on health grounds. "We don't know when it will happen, it will be the will of God." Among the various topics discussed was abortion which Francis compared to "hiring a hit man."
 In an interview given to Reuters Pope Francis was quick to shutdown the rumours that have been circling about his possible resignation from the papacy. "Resigning? It has never crossed my mind. For the moment definitely not. Seriously." According to the pope the rumours have been caused by a misreading of certain events in the papal calendar including the nomination of 20 new cardinals and the visit to L'Aquila, where he is set to pray in front of the body of Saint Celestino V.
 The pope dismissed them saying "All of these coincidences have made some people think that some liturgy would take place."  When asked about when he would stop being the pontiff he replied: "We don't know when. It will be the will of God."
 The pope also denied that he had been diagnosed with cancer a year ago when he underwent a six hour heart surgery to remove a colon – a condition that is common in old age. "The operation was a great success." He specified that his current tumour "Hasn't stopped me from anything" and branded them as "nothing but rumours. He also added that he didn't want to have a knee operation because the general anaesthetic from the operation last year had had a cumulative negative effect.
 Talking about the situation in Ukraine, Francis noted that he had been in contact with the Secretary of State, Cardinal Pietro Parolin, and the Russian Foreign Minister, Sergei Lavrov, about a possible visit to Moscow. He first spoke about a possibility visit several months ago, although Moscow had replied that it wasn't the right moment. He hinted however that this was something that could change. "I would like to go to Ukraine and I want to go to Russia first. "We are in communication about the possibility and I think that the Russian president may give me a small window to serve the cause of peace. After my return from Canada the first thing to do in Russia is to try to help in anyway."
 To close, Francis spoke about the recent US Supreme Court decision that overturned the historic Roe v Wade ruling that established women's right to abortion. He strongly condemned abortion comparing it to "The hiring of a hitman. Is it legitimate and right to take away a human life to solve a problem?" The pope was also asked about the possibility of a Catholic priest being personally opposed to abortion but who allowed the right of others to choose and if they could receive communion. "When the church loses its natural teachings, when a bishop loses the traditional way, this causes a political problem. This is all that I can say."  
 © COPYRIGHT ITALIAN INSIDER
UNAUTHORISED REPRODUCTION FORBIDDEN