Russian cruiser spotted off the Apulian coast heightens fears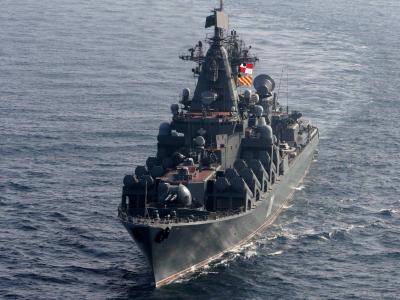 Russian cruiser 150 miles off the coast of Puglia
 TARANTO – A passage of Moscow ships 150 miles off Apulian coast raised tensions, as the traffic of Russian military vessels in the Mediterranean continues to increase, the Italian Navy reported. 
 Russian cruiser Varyag, the sister ship of the 'Moskva,' Russia's flagship Black Sea missile cruiser, was spotted, accompanied by the destroyer 'Admiral Tributs'. The two were picked up by Twitter account 'Shipyard2' on June 10 and later by specialised sites. Sources reported to the news agency ANSA that the cruiser was seen that afternoon in the Ionian Sea, over 300 miles from the Apulian coast, and sailing south-east towards Crete. It was thought that the American aircraft carrier 'Harry Truman' was in the same area, and so the presence of the Russian cruiser could have served as a disturbance tactic. 
 Such viewings and approaches are becoming more frequent, mostly as intimidation tactics to further establish Moscow's threatening presence in Mediterranean waters. This strengthened military presence is being closely monitored by NATO, the Italian Navy with Fremm class frigates, and Italy's Defence Ministry. 
 There are now 18 of Moscow's warships in Mare Nostrum, compared to one in 2016, as well as two submarines "with strategic missile capabilities," reported Admiral Enrico Credendino, Chief of the Italian Navy. Up to now, there have not been breaches in territorial waters. 
 Putin's fleet starts (and arrives going back on itself) from the Baltic Sea to the port of Tartus in Syria, the only base of the Russian Navy in the Mediterranean. Turkey's closure of the Bosphorus strait to military ships means that Russian ships can no longer arrive in the Black Sea or leave the southern basin using the quickest route. 
 The Italian Defence Minister, Lorenzo Guerini, is very aware of the increased risks posed by Russia's domineering presence on NATO's southern flank, and has recently signed a directive on the 'Security and Defence Strategy for the Mediterranean', a sea to which Italy's security is "inextricably linked", he declared. 
al
 © COPYRIGHT ITALIAN INSIDER
UNAUTHORISED REPRODUCTION FORBIDDEN