UK ambassador kicks off Naples revelry for Queen's Jubilee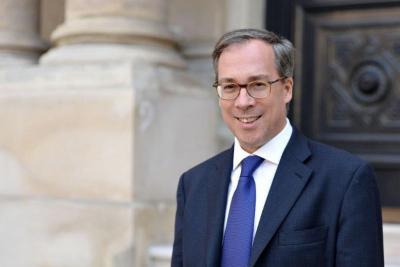 Ed Llewellyn, British Ambassador to Italy
NAPLES - Ed Llewellyn, the new British ambassador to Italy, held his first Jubilee for Queen Elizabeth II at Villa Doria d'Angri after three years of pandemic cancellations.
 This year, the Queen celebrates 70 years on the throne, making her the longest-lived monarch in British history, endowing the event with particular significance.  Ambassador Llewellyn commented that Queen Elizabeth's reign "almost overlapped the Italian Republic, whose 76th birthday we had the pleasure of celebrating last week." Naples was selected as the location for the event, strengthening the already strong ties between the two countries.
 Commenting on the event, he said, "It is a great honor for me to start the celebrations of Her Majesty's Platinum Jubilee from Naples, as I have a personal connection with the city, having lived here with my family as a child. It's a bit like coming home." The celebrations highlighted shared values between the countries and featured an exhibition of electric bikes and scooters from the company EMoby (partner of the British embassy also for the offsetting of emissions of all Qbp in Italy), as well as an exhibition with two vintage cars from the Jaguar Drivers' Club.
 Ukrainian, Alla Mordavaniuk, winner of a TV music competition in the city of Odessa performed "We will meet again" as a tribute to the Queen accompanied by violinist Anna Velicko and Maestro Paolo Scibilia, friends of the British Embassy in Italy. The traditional Royal Welsh Band also played for the Sunset Ceremony, a combination of Beating Retreat, a military ceremony that was first used to recall nearby patrolling units to their castle, Tattoo and the lowering of the national flag. 
al
Villa Doria D'Angri, Naples
 © COPYRIGHT ITALIAN INSIDER
UNAUTHORISED REPRODUCTION FORBIDDEN