Five dead after tugboat sinks off Bari coast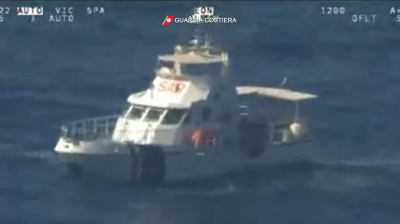 Croation Coastguard search and rescue boat Photo credit: Italian coastguard
 BARI – Five men died after their tugboat sank while towing a pontoon off the coast of Bari in southern Italy, the Italian coastguard said on Thursday.
 The Franco P tugboat had been pulling the pontoon along the Italy-Albania route, 53 miles off the port of Bari, when it started sinking, the coastguard said in a statement.
 An air and sea rescue was launched after an alarm signal was picked up from the vessel on Wednesday.
 Four bodies have been recovered and another has been sighted. The Coast Guard will transport them to the port of Bari.
 Overnight, a Croatian ship rescued the boat's captain from rough seas, the statement said.
 cc
 © COPYRIGHT ITALIAN INSIDER
UNAUTHORISED REPRODUCTION FORBIDDEN